NFTs continue to be a popular form of investment. In recent years, we've seen the asset class rise in popularity. Based on a report published by Verified Market Research (VMR), it's predicted that the annual growth rate of NFTs will be 33.7% throughout the next eight years. Needless to say, we're excited to be at the forefront of this growing category!
Sports teams, celebrities, and even fashion brands have started embracing NFTs – spiking interest across multiple niches. Despite the turbulent year 2022 has had in the crypto world, the digital art boom is just at its inception. 2023 is slated to be a big year for the space.
Miami Art Week is the leading global destination that connects art collectors, galleries, and artists to experience all forms of art in a celebratory fashion. After the pandemic in 2020, the NFT market flourished, and Miami Art Week played a significant role in the rise in popularity of NFTs as valuable forms of art investment. In the years since, NFTs have been at the forefront of every major art fair, and Miami Art Week is no exception, reinforcing that the once "fad" of NFTs is actually here to stay.
Miami Art Week 2022 was a great success and our first year bringing the works of our talented NFT creators to the sought-after art scene on the beaches of Miami. We showcased over 30 of our incredible Solana artists.
Event Overview
In an upscale venue vis-a-vis the Miami Beach Convention Center, which hosts  the main Art Basel Miami Beach fair every year, we built dedicated installations and spaces for artworks that are traded on Exchange Art and welcomed over 250 guests from the art and crypto worlds.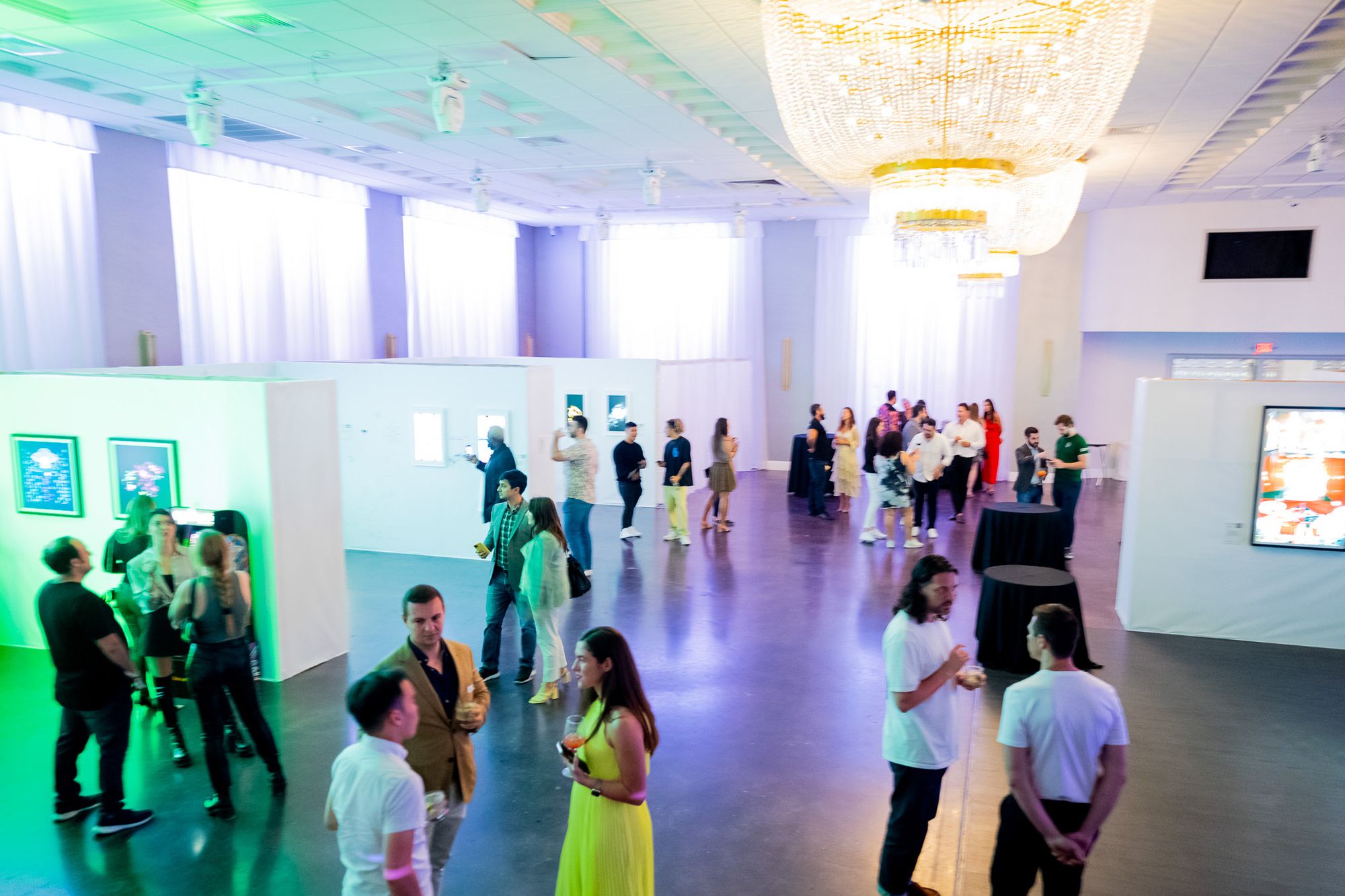 Don't take your shoes off on this rug
Upon entering the exhibition space, you were welcomed with Jason Seife's stunning Phoenix Rising, which danced across the entry way, captivating entrants with his 3D animated modern take on Persian carpets. This piece is based on an original painting which the artist animated so that the flowers and birds blossom and fly. Viewers could walk across the piece!
Step into the library
This library space, complete with a desk and typewriter, and scattered with books and papers, featured artwork from breakout series by Degen Poet and Laura El.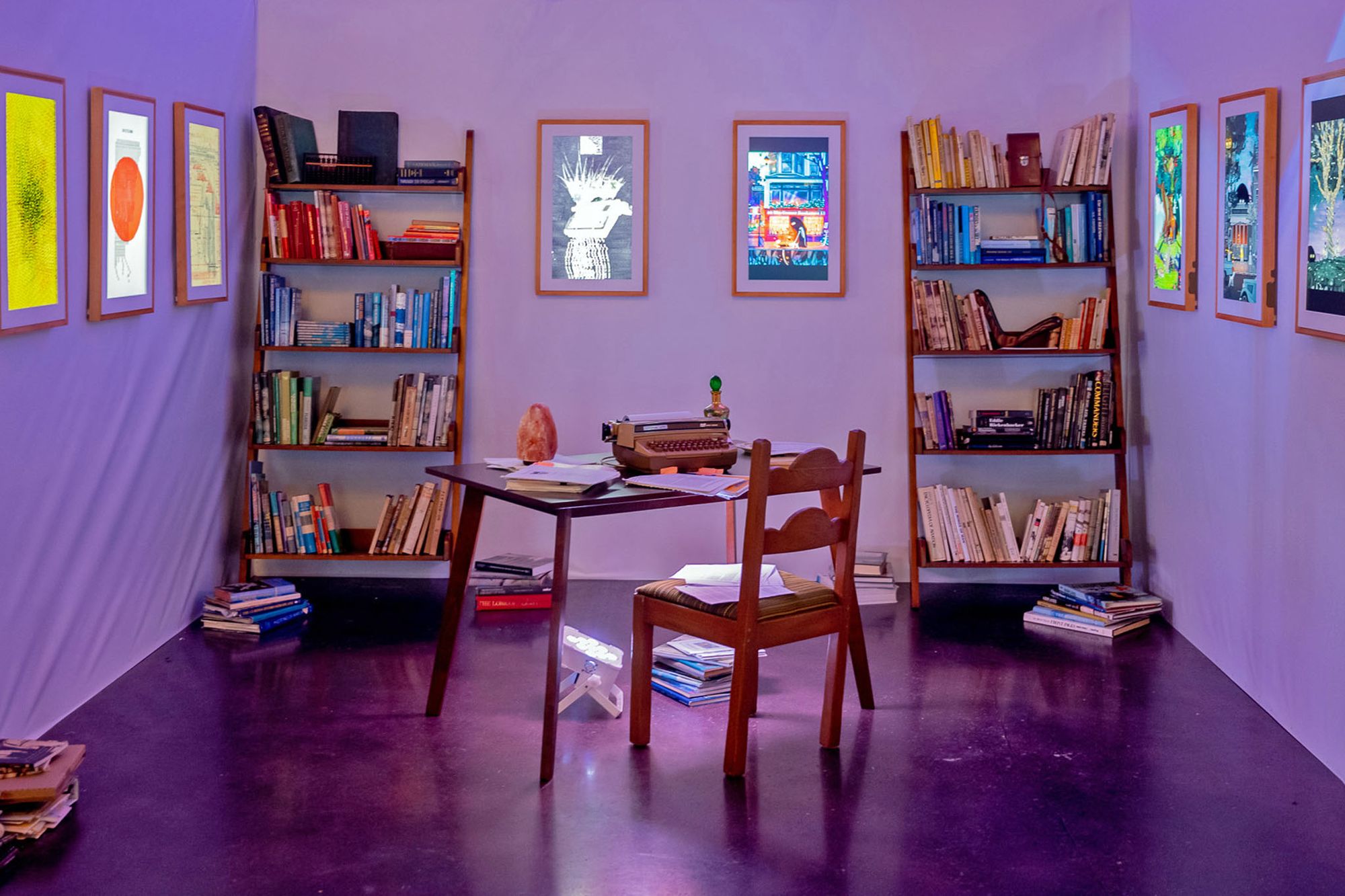 In Typestracts, Degen Poet moved from straight poetry to abstract compositions. The artwork displayed is typically created with a manual Olivetti typewriter, permanent marker, and various kinds of paper.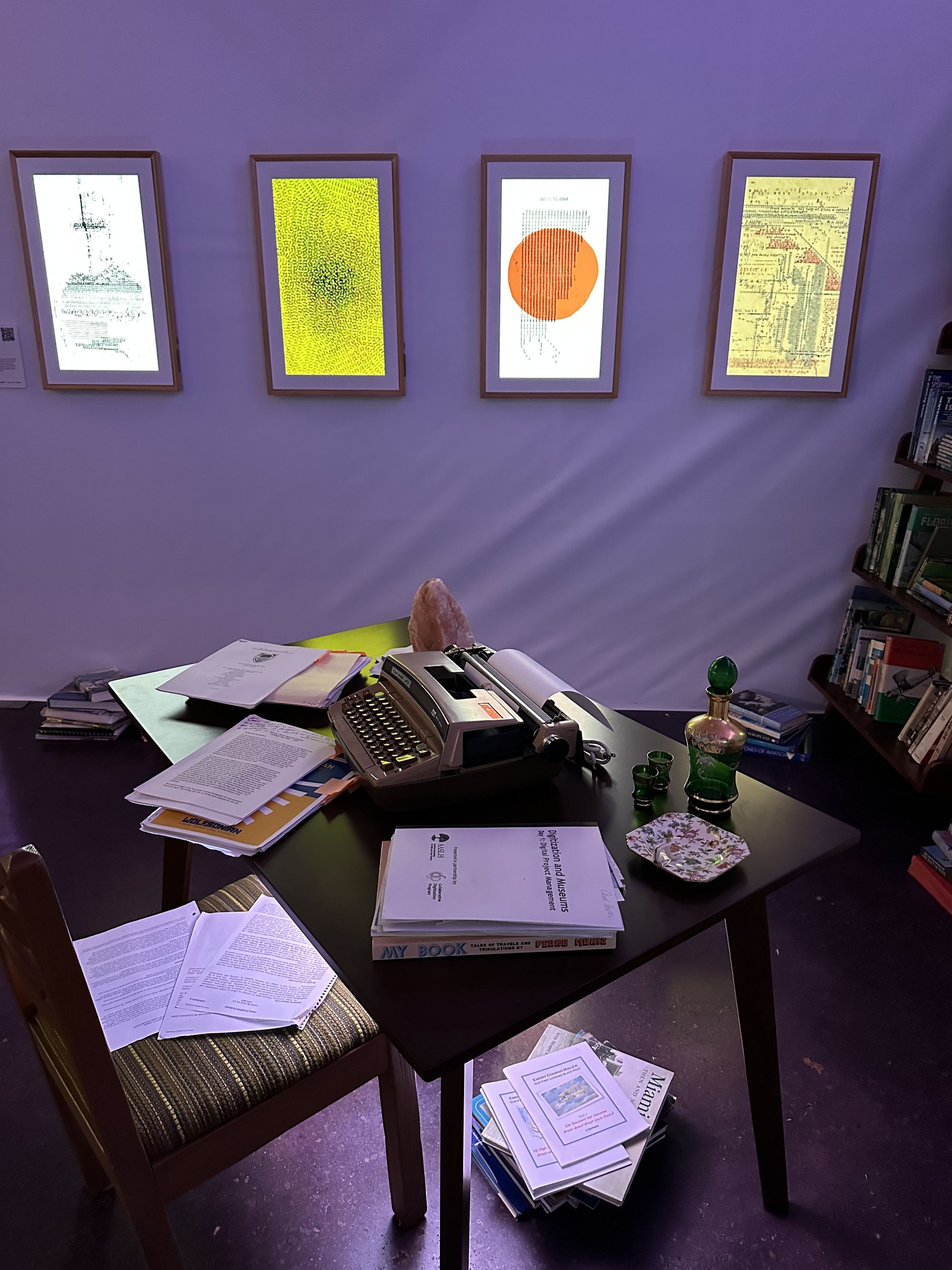 With The Lurkers, Laura El has created an entire world with distinct, swirling black lines and unmodulated colors. Consisting of digital illustration and animation, this narrative explores dark spirits following children with naughty thoughts. When the children act on those thoughts, the Lurkers snatch them and take them to the underworld. One Lurker changes and begins a special friendship with a child. The artist is creating a book of The Lurkers with text to truly encapsulate this story.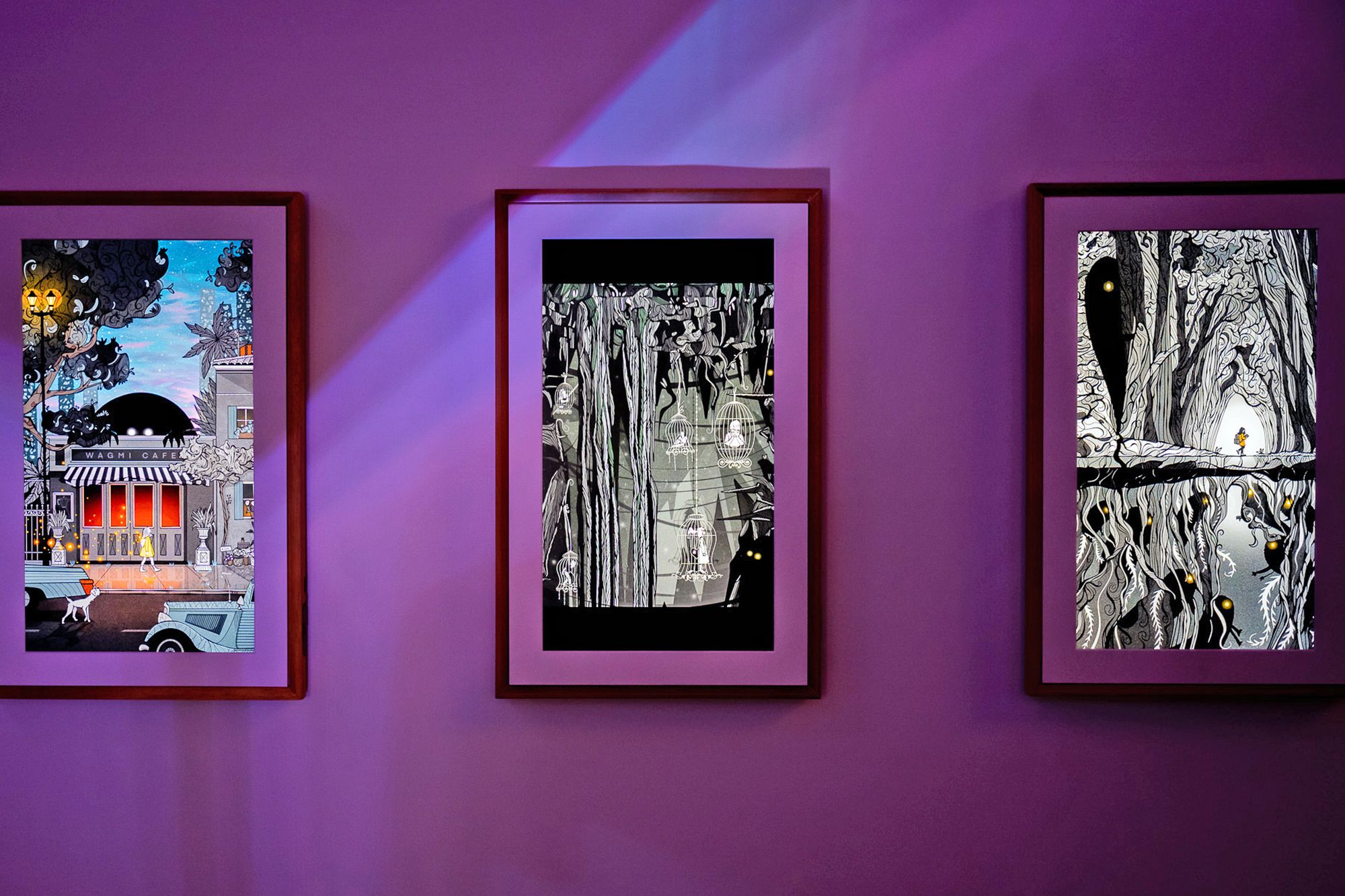 Alone, not lonely
Photographer Cath Simard shot Alone, not lonely during a trek deep into the backcountry of Yoho National Park in the Canadian Rockies. She returned to this remote spot above Lake O'Hara over four different trips in order to capture the image she envisioned. The artist placed herself in the image to emphasize the grandeur of nature. Once she returned from the wilderness, she created a composite image to truly convey her experience of the breathtaking mountainous landscape with the majesty of the stars in the night sky.
This installation asked the viewer to imagine themselves in the beautiful landscape by wearing a red jacket and sitting on a cliff, just as Simard placed herself in landscape.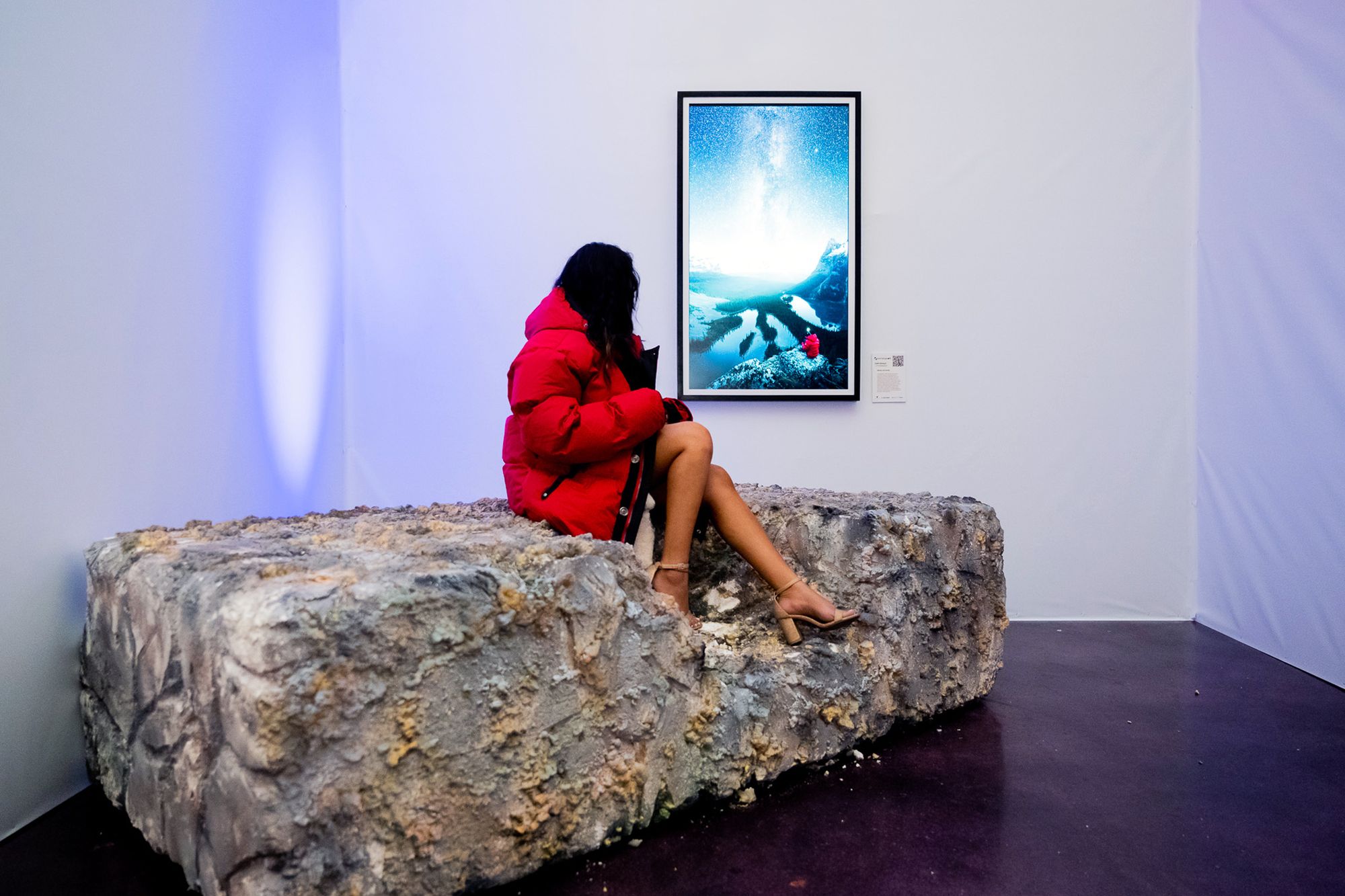 The Sculpture Gallery
The sculpture gallery featured Mueo's NeoBaroque Snowflakes and Peanug's Sacred by Nature sculptures displayed on iPads, so visitors could manipulate and engage with the works.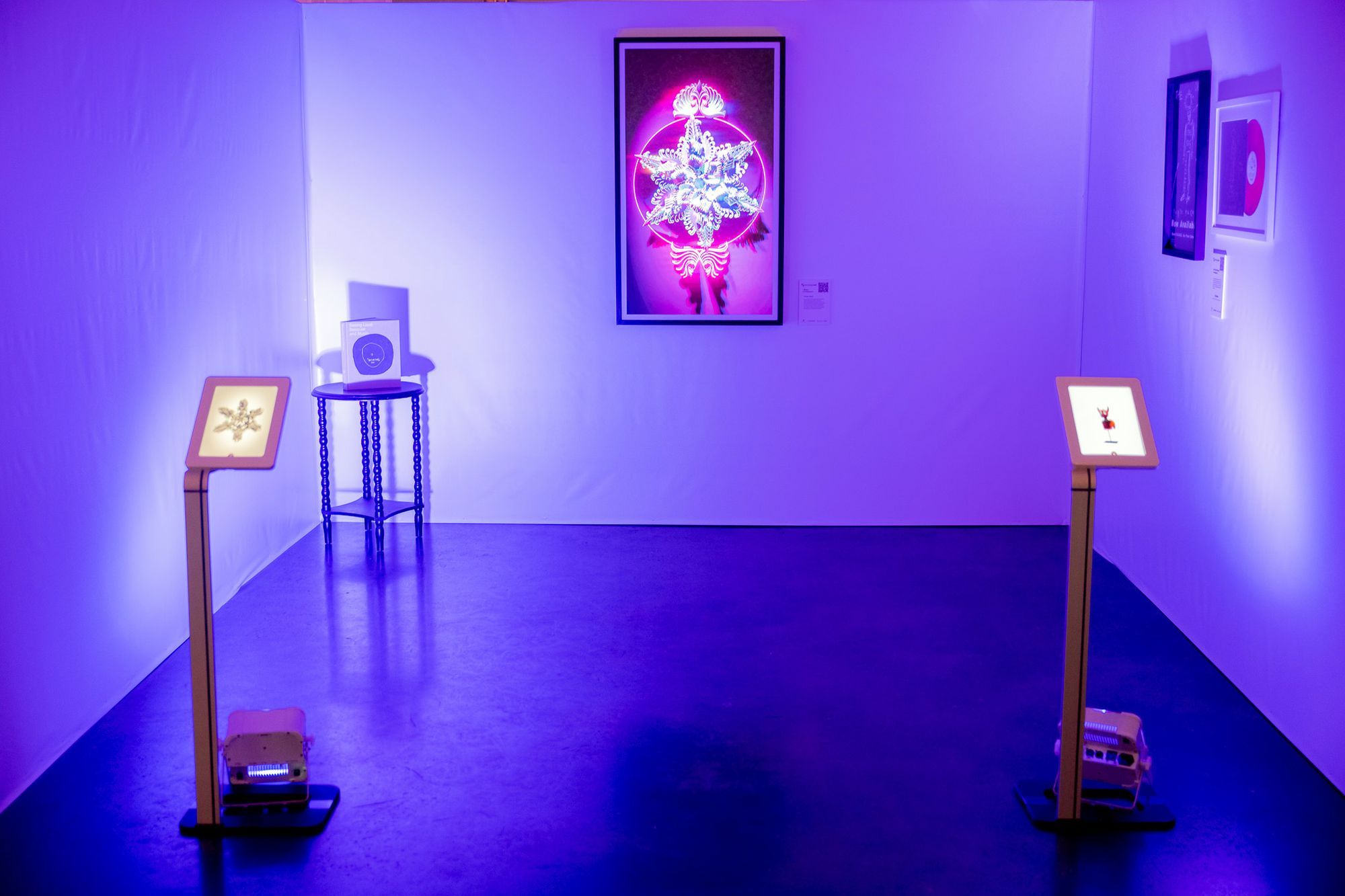 Mueo's NeoBaroque Snowflakes are animated, interactive 3D works that express the decorative uniqueness of snowflakes. Frozen Vapor is the culmination of Mueo's NeoBaroque Snowflakes. One of the signature expressions frequently found in Mueo's works is hypnotic and perpetual movement. In this piece, the snowflake is perpetually in a state of change, but always returns to how it was, creating a sense of anticipation simultaneous to a state of calmness.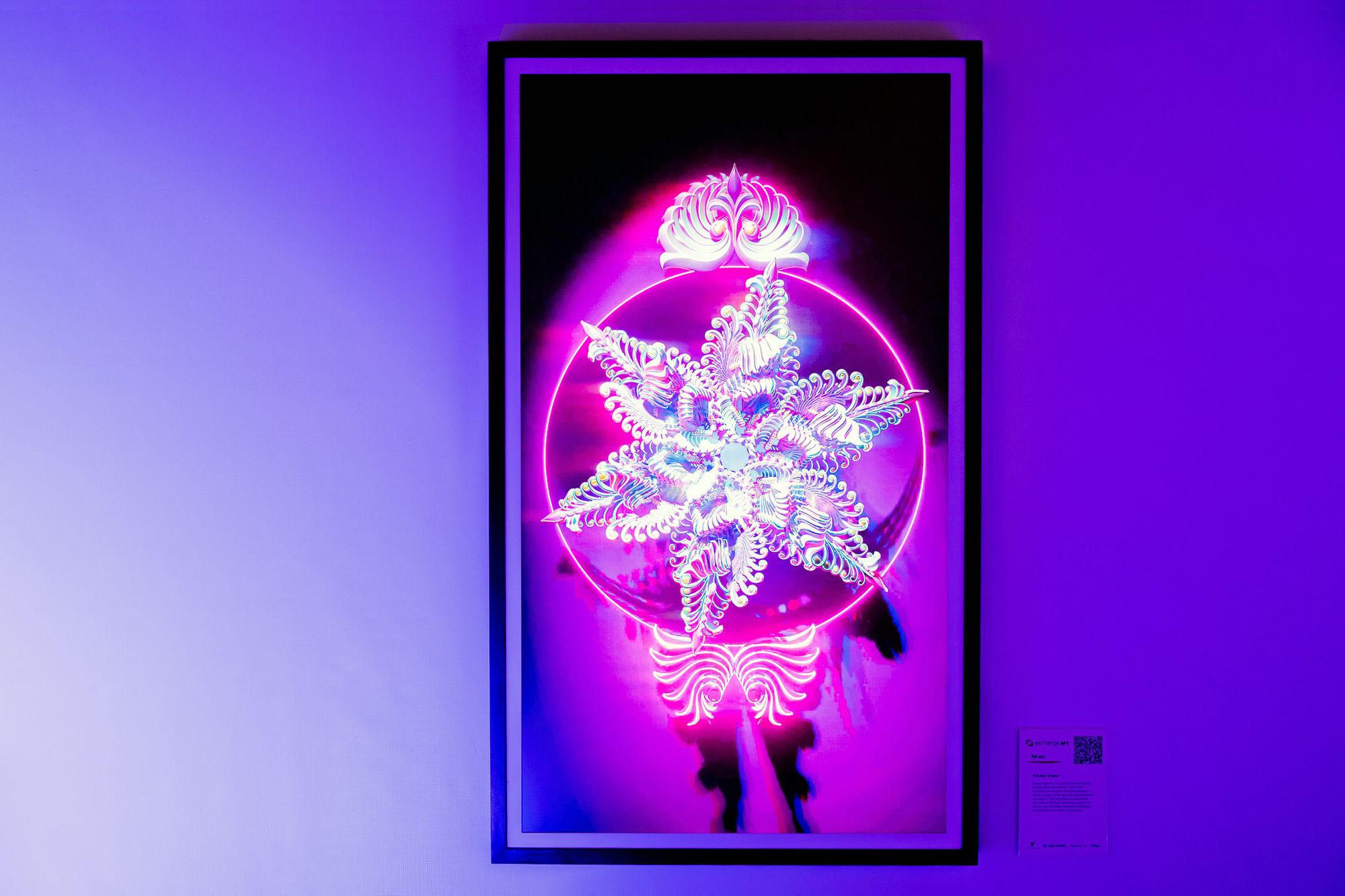 Peanug is a pioneering multidisciplinary artist who primarily works in virtual reality. These incredible, thought-provoking sculptures were sculpted by hand in virtual reality, paying homage to historic cultures and artists.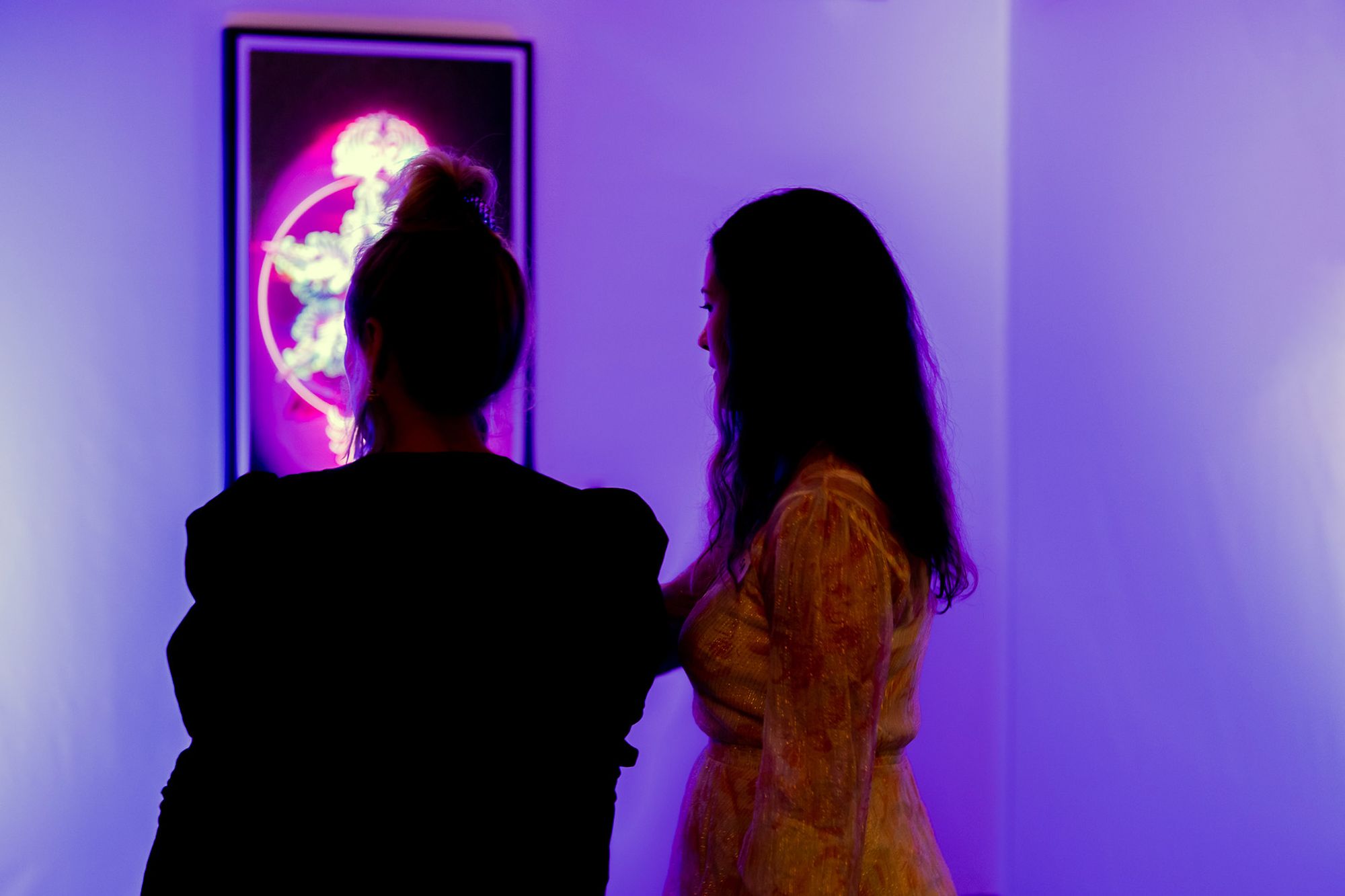 The Pixel Art Arcade
We displayed animated pixel art by Adam Ape and Zen0 in an arcade area and invited the viewer to engage with the installation by playing vintage games like Packman and Pong!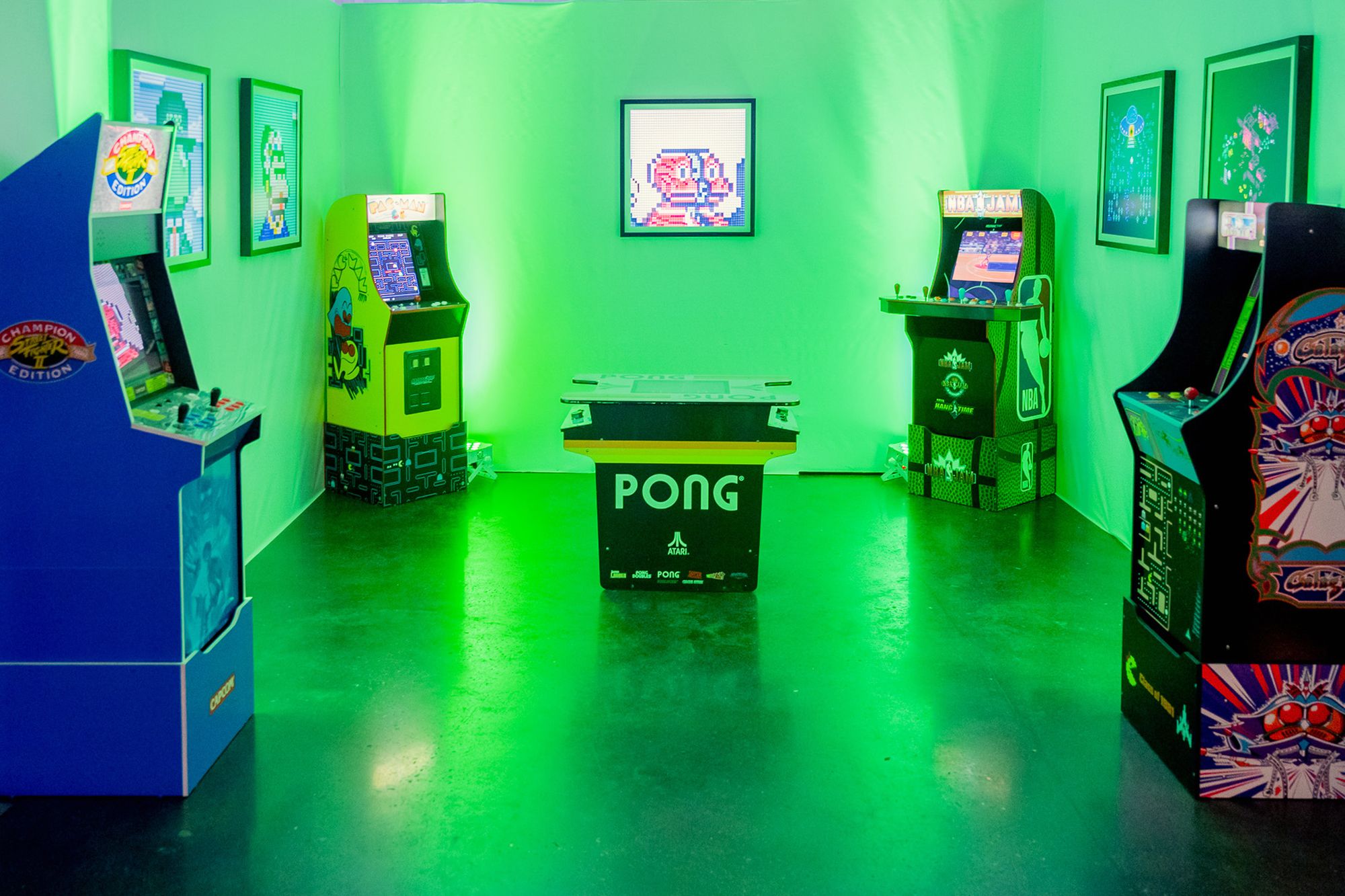 Voxel Monkes is a foundational 3D animated series on Solana by Adam Ape. This series consists of 75 pieces of animated iconic moments and figures built on the classic monke pixelated silhouette.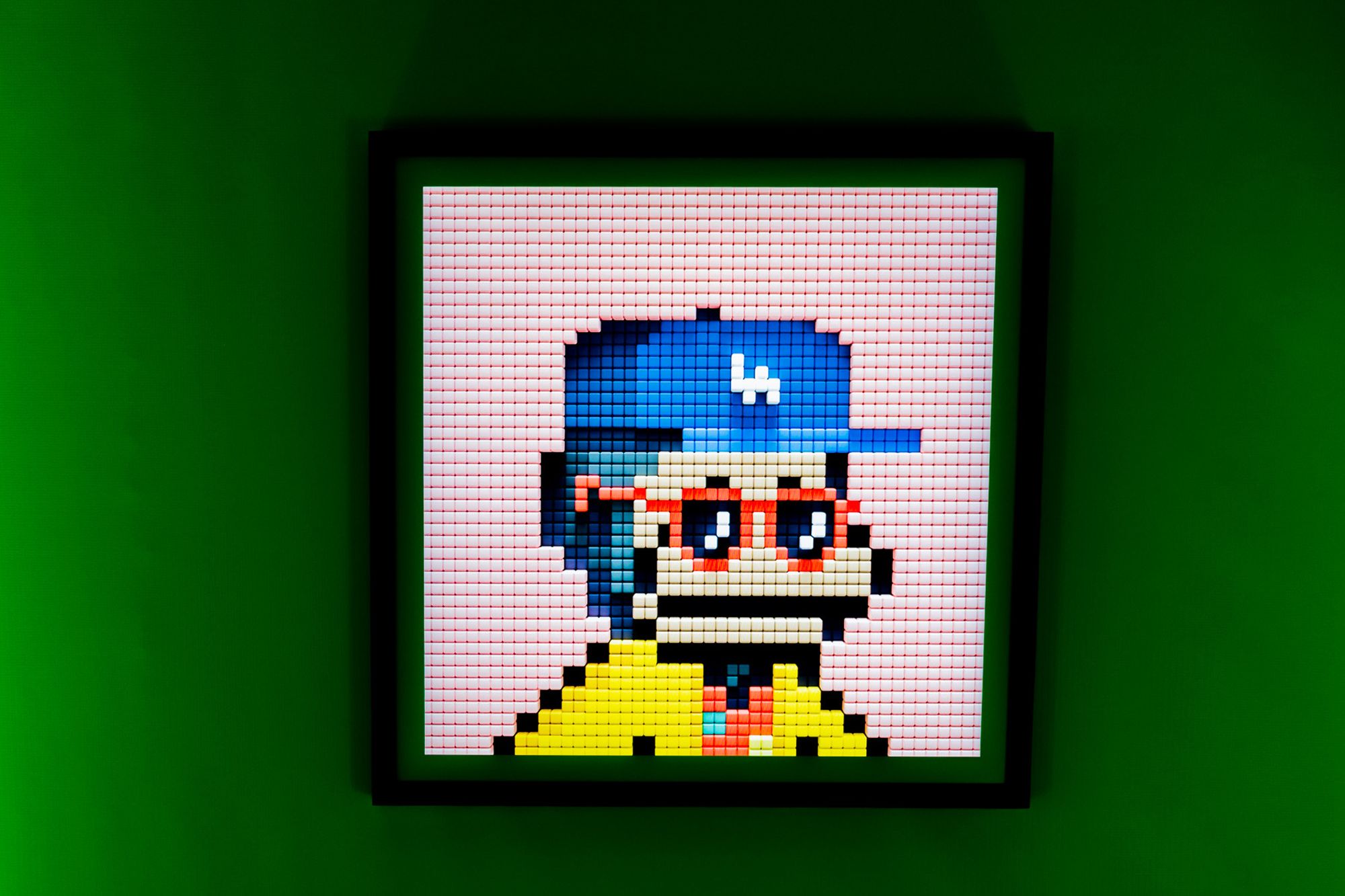 Zen0 creates low resolution pixel art with as few pixels as possible in an aesthetic that is reminiscent of classic video games. In these pieces, the protagonist Monster Friend journeys through strange worlds, with odd curiosities and ominous characters lurking in each composition.
Digital abstract art in a modern living room
In this installation of digital abstract art in a living room, we wanted to convey how collectors can live with digital art in their home. Paintings by Lisanne Haack, ADHD, Kiramoto, and Vincenzo were displayed in this modern living room.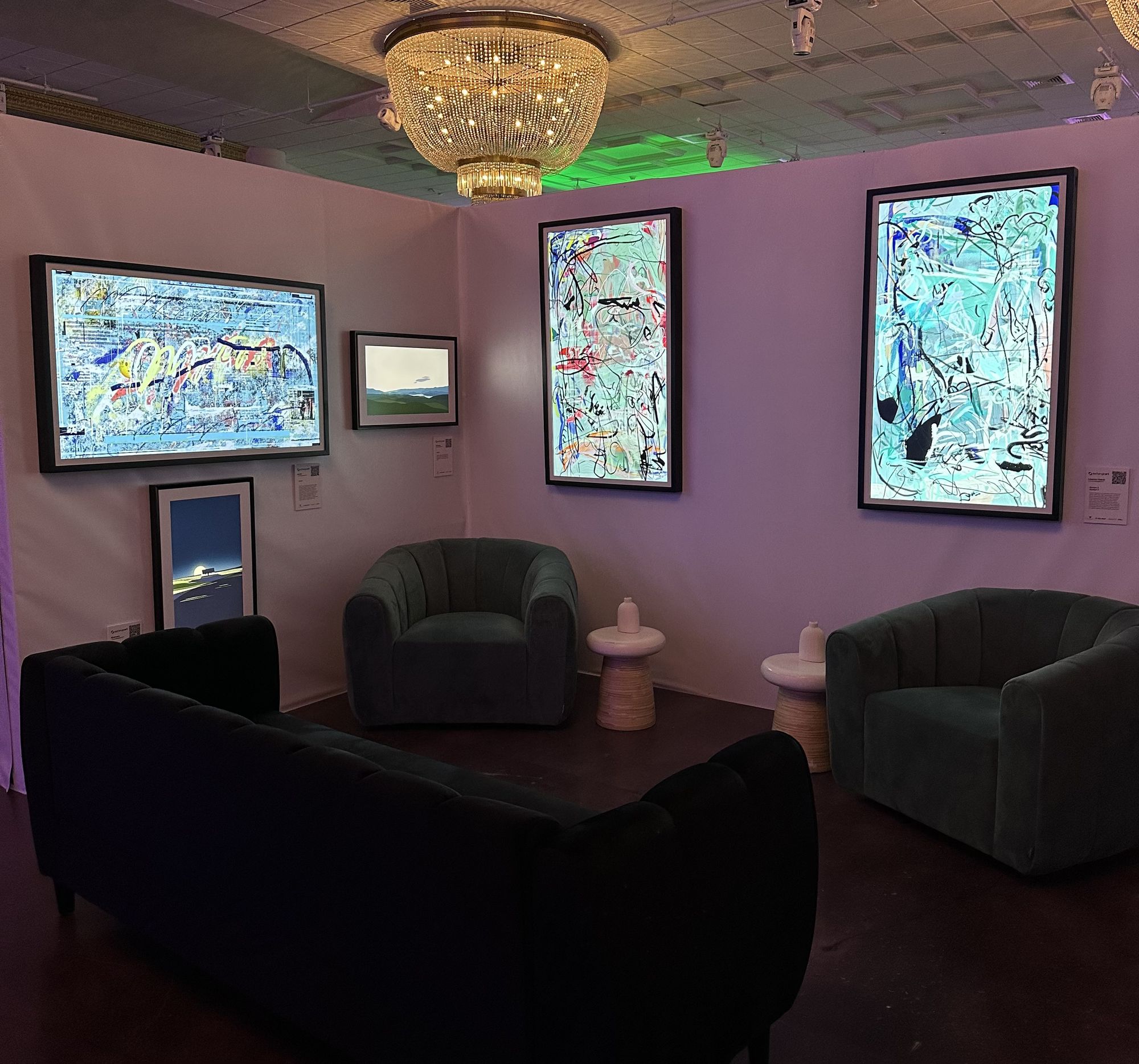 Lisanne Haack is an expressionistic artist who works with color, line, composition, and form in her exuberant paintings. In Bold harmony, Haack presents faces, figures, and flowers in her fluid and lingering black lines while referencing Abstract Expressionist painter Jackson Pollock. These works were originally commissioned and exhibited in The Evolution of Painting, Exchange Art's inaugural show in our gallery space in Southampton, New York.
ADHD creates highly detailed abstract digital paintings through a hybrid process of digital and analog painting, collage, printing, and scanning. In Career, ADHD reflects on the archetype of the artist when reduced to Wikipedia entries. The artist integrates archival newspaper articles and photographs with the internet language of Wikipedia entries and emojis. He deconstructs layers, creating a variety of textures, and obscures direct photos, which relates to the erasure of the artist.
Kiramoto is neo-precisionist, minimalist artist. In Nightfall, the artist depicts a lone house amidst an open landscape at nightfall.
Vincenzo creates minimalist landscapes that are inspired by his photographs. In Valley 1, the artist represents a valley with rolling hills through flat, unmodulated colors and soft lines.
Displaying art in a classic living room
The second living room, which mixes traditional furniture with contemporary art, highlights digitally native works to not only showcase the feel of the digital art in the home but the depth of the medium of abstraction. Artwork by GSON, Sir Wayne Nooten, Fallen, Flat, and Sleepr were displayed.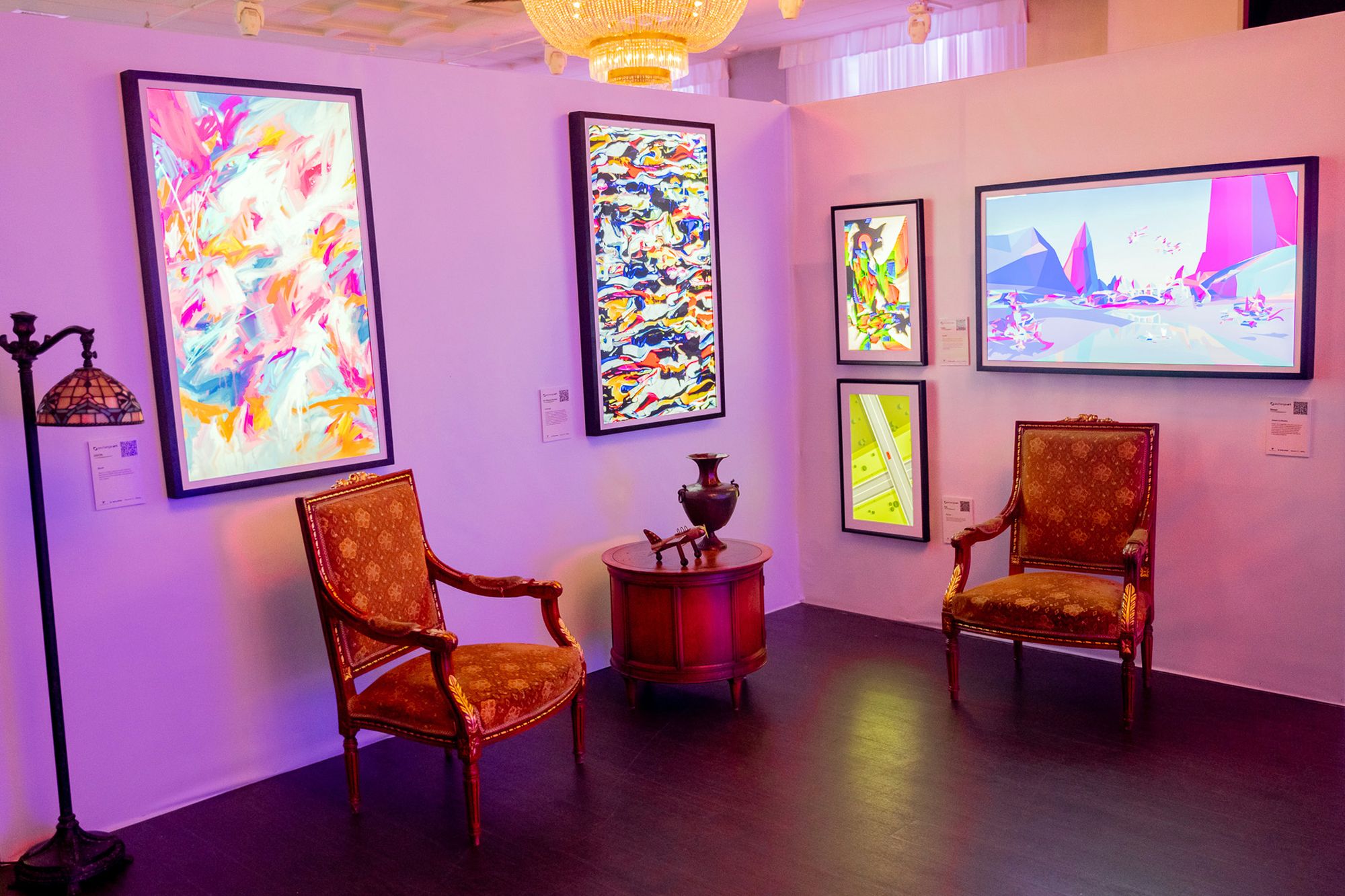 Blush is a loose, expressionistic abstract painting by GSON. Although the lines are reminiscent of brushstrokes, this painting is born digital.
Sir Wayne Nooten utilizes AI in an incredibly unique process. In Arbitrage, he combines four mediums -  physical painting, photography, AI, and digital collage. First, he created a physical painting which he photographed. Then, he input the photograph and a word prompt into an AI program. Then, he digitally cut  and reassembled pieces from the generated images to create an entirely new, original composition.
Fallen is a digital artist who creates abstract, glitched works. In fip. 20, Fallen experiments with an extremely saturated color palate. He created fip. 20 by sending a digital painting back and forth between Procreate and glitch software, combining human creativity with computerized chaos to create a uniquely digital aesthetic.
Flat is a flat artist who uses unmodulated colors. In Fly Over, Flat depicts a highway with one lone red car from above.
Sleepr is a superflat artist who uses vibrant colors and chaotic compositions to produce dreamlike imagery from personal visionary experiences. In Dream is Destiny, loose, abstract forms unfurl across imaginative scenes, seamlessly blending landscapes with figures in this unique aesthetic.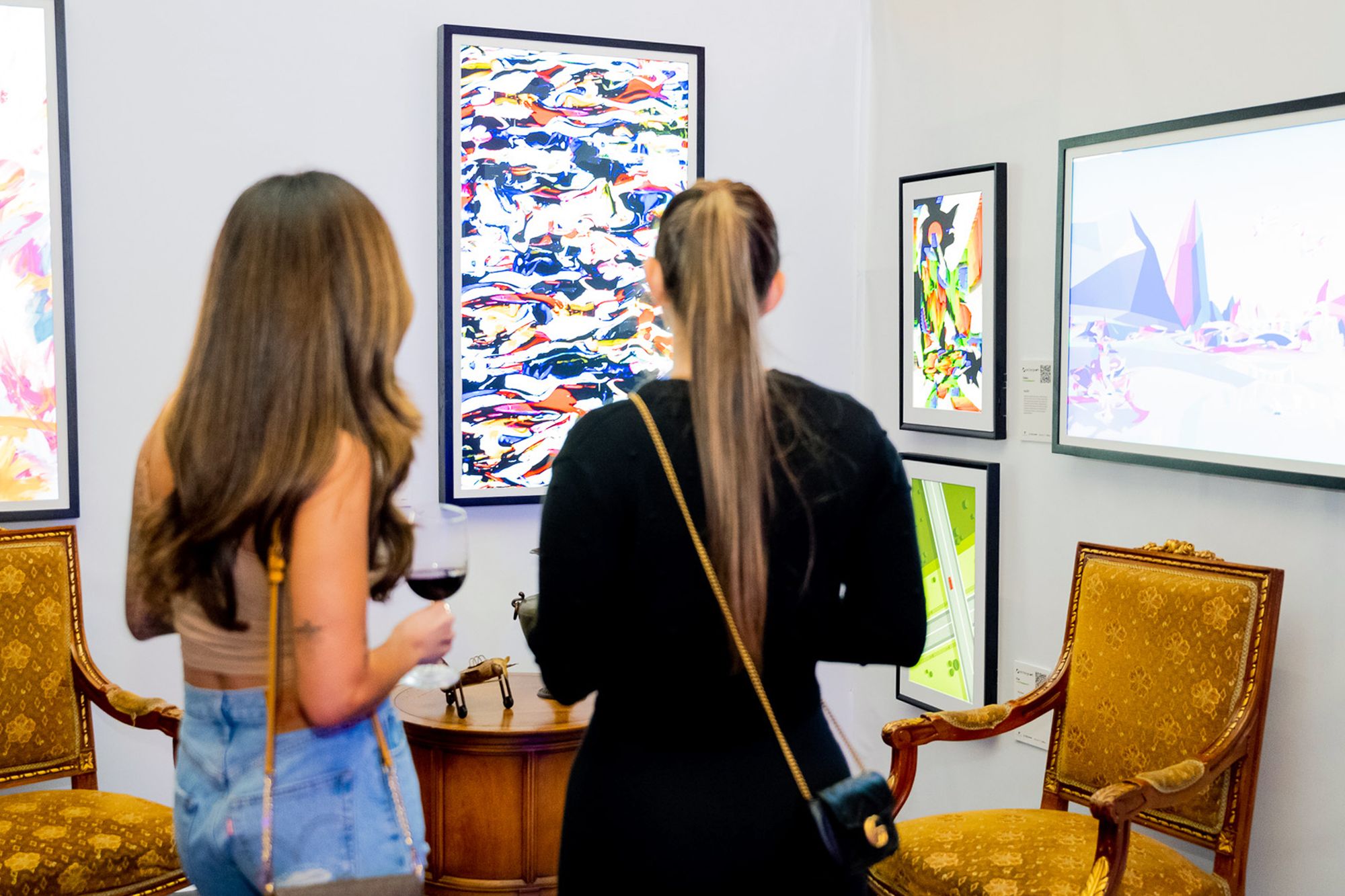 Take a pen and let the creative juices flow
For many years, illustration was not considered fine art. Exchange Art has been proud to champion and promote this medium, along with the incredible creators like Hyblinxx, John Lê, Ben Bauchau, Trev. El Viz, Neil Villpu, and Merve Yigit.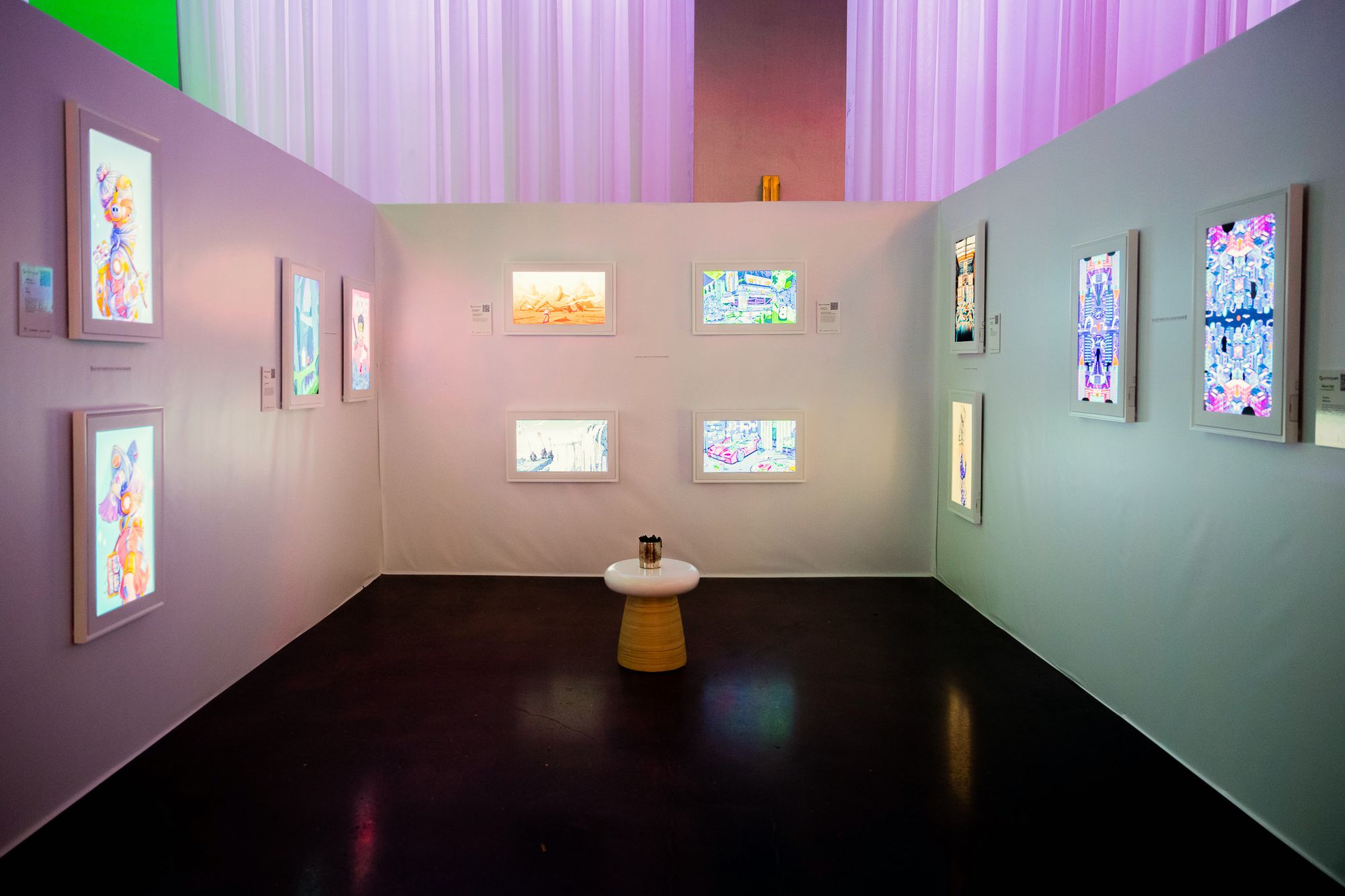 We chose to display illustration in a room where we encouraged patrons to pick up a pen and draw next to their favorite artworks.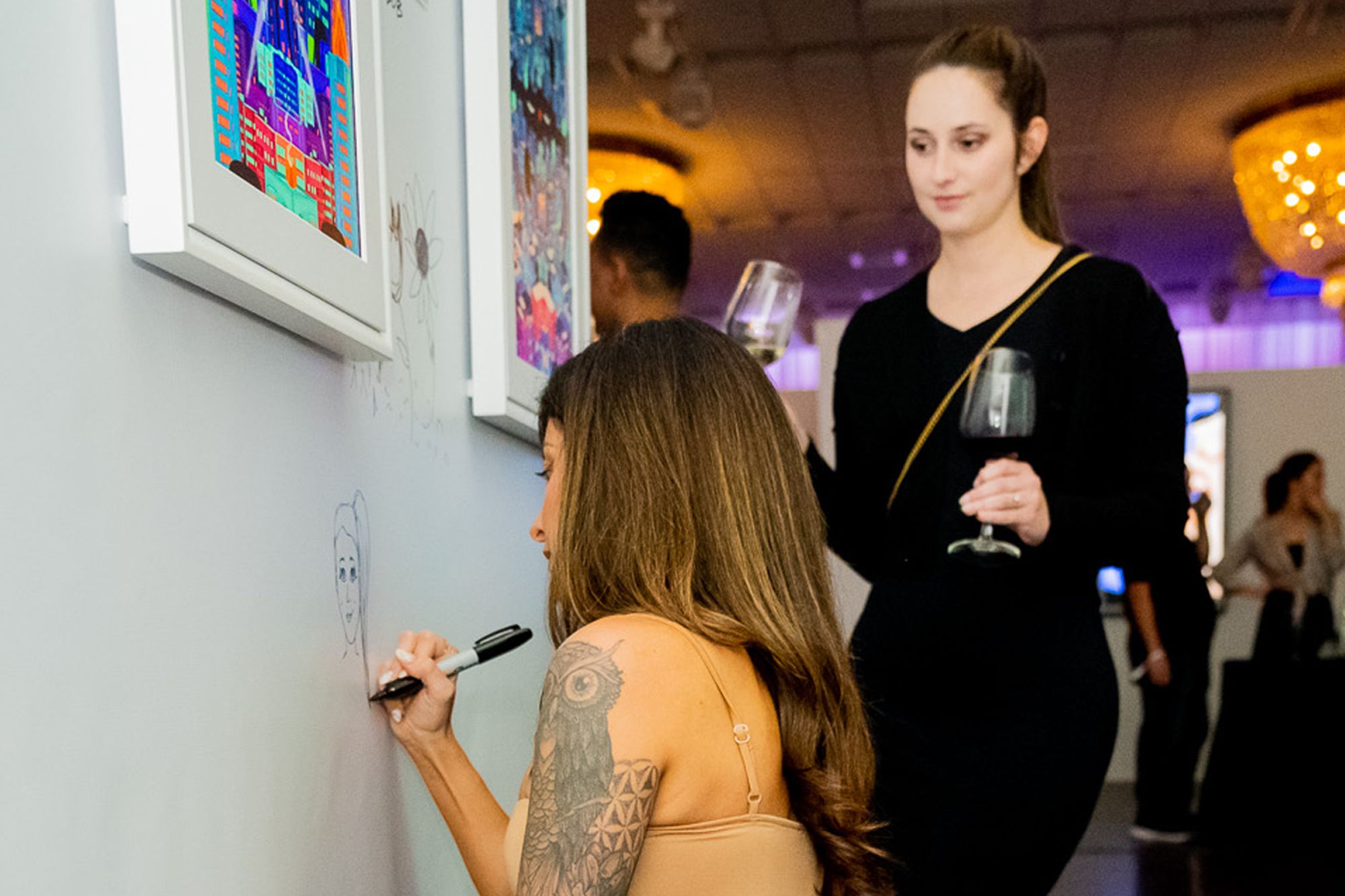 An artist with a vibrant and whimsical aesthetic, Hyblinxx is developing theHoodlums, a 1/1 PFP series that connects her personal history with her love of art, storytelling, and fashion. Part of the proceeds will be donated to orphanages around the world.
John Lê is a trailblazing artist and figure in the Solana digital art space. The First Edition and IODA  are a selection from groundbreaking new work, including his first edition, which created a paradigm shift, bringing new collectors to the fine art ecosystem. IODA represents the beginning of the artist's first comic book on chain.
Illustrator Ben Bauchau creates standalone stories in strange and surreal environments. With the Lost In A Place series, the artist explores his emotions, unconscious, and imagination.
Beyond the Valley of Springfield is Trev El. Viz's love letter to lowbrow pop culture. Each piece presents a comic-book style scene inspired by classic The Simpsons episodes and B-movies. The more pop culture knowledge a viewer possesses, the more each piece will reward them!
Neil Villpu builds dynamic worlds and narratives through illustration. This series, The Balance, explores the push, pull, and balance of nature and technology.
Merve Yigit creates brightly colored, imaginative drawings with distinctive figures represented in silhouette with extremely small heads. The artworks on view are from the artist's series, Metaverse., which is about travels in the metaverse. The artists depicts a sun, representing the new day, in each piece.
The Photography Gallery
The photography gallery showcased photography in a very clean and contemporary way. Apah Benson and Samuel Ryde showcase the depth of digital photography, while Johnny Jordan and Nevin Johnson bring film to the blockchain. LIGHTS and Douglas McCurdy show us the more conceptual side of the medium.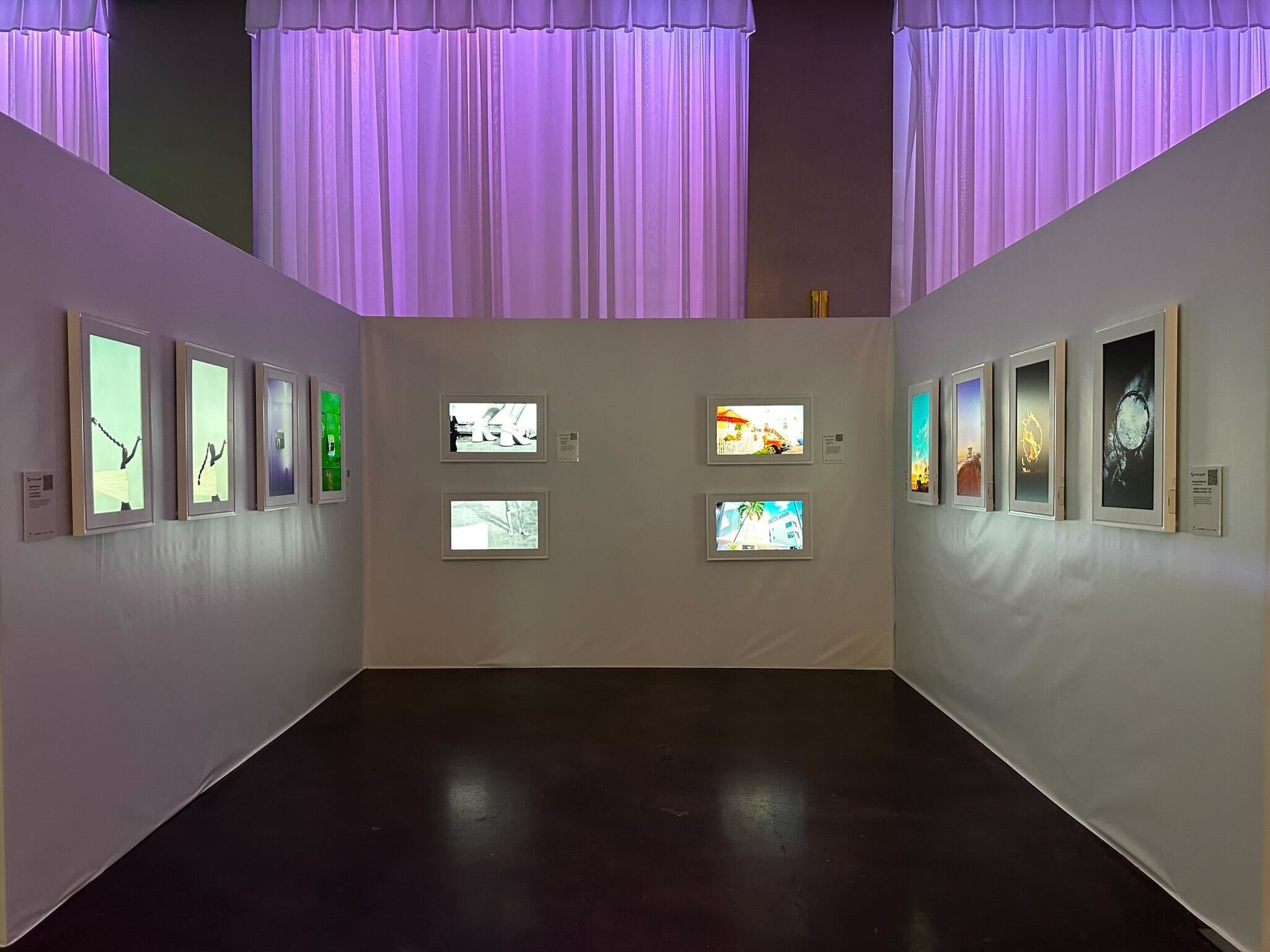 Apah Benson is a conceptual portrait photographer. In The Black Swan series, Benson portrays a beautiful and graceful woman with a distinctive hairstyle.
Samuel Ryde is a British photographer who captures typically overlooked items of the everyday. In this series, Ryde focuses on hand dryers.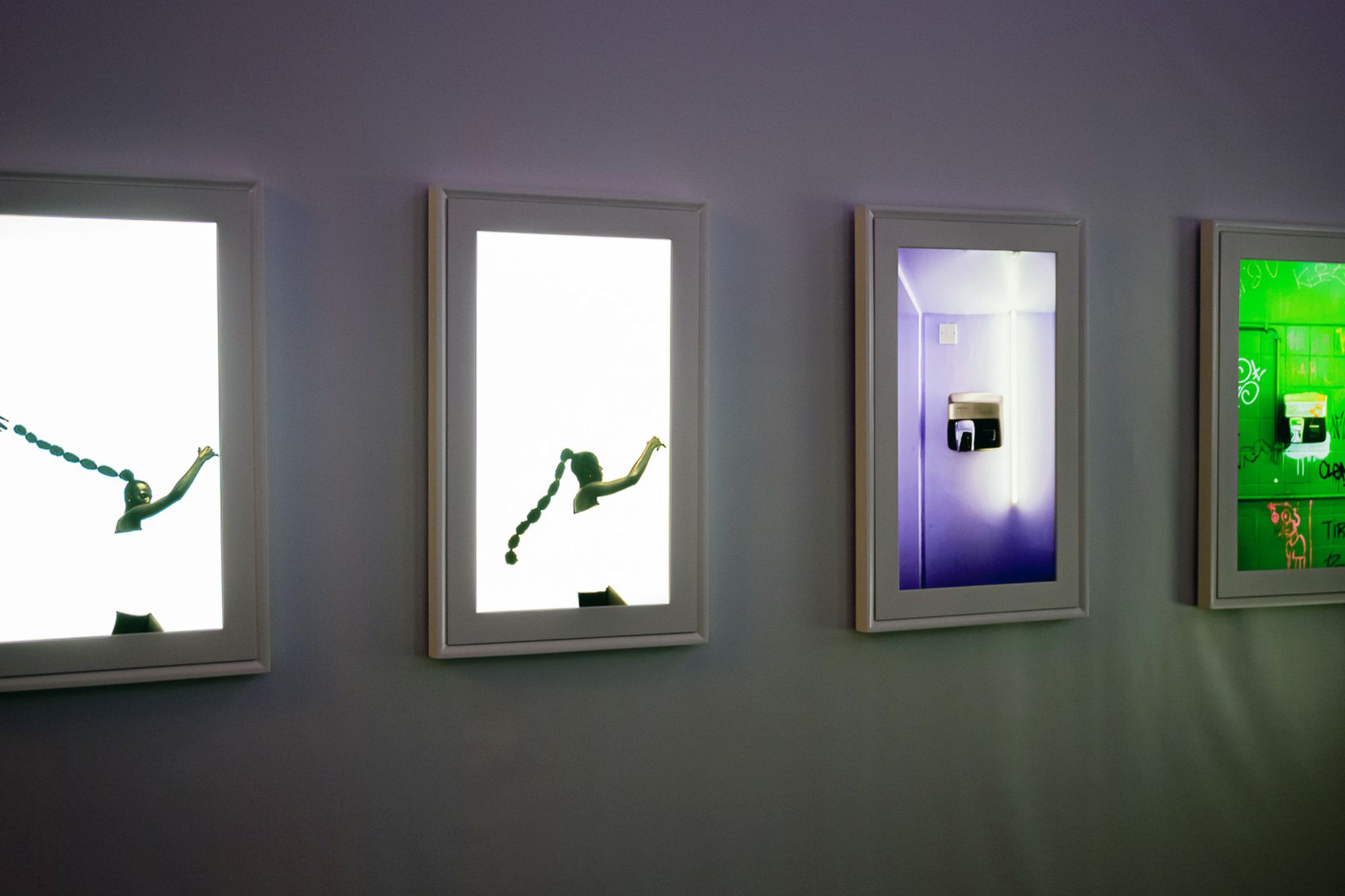 Johnny Jordan is a film photographer known for his distinctive style of intimate and ethereal images of his muses. Shot on 35 mm film, the La Terraza series captures a woman wearing distinctive white heels on a beautiful terrace.
Photographer Nevin Johnson embarked on an ambitious two year project documenting his travels across the United States. These nostalgic film photographs were taken on Cinestill 800t, which is a variation of motion picture film. These photographs utilize the distinct way the film registers the color red as well as the blurred effect around highlights.
With California Dreamin', LIGHTS photographed iconic locations across California. He then enhanced the images through texture, color, and shapes to create a uniquely blockchain aesthetic. The block and dot textures pull the viewer into the image, enveloping and welcoming them to the beauty and vibrance of California.
Douglas McCurdy is a conceptual artist who works with basketball hoops. In the Surreal for Real series, McCurdy manipulates the hoops in incredibly surreal ways.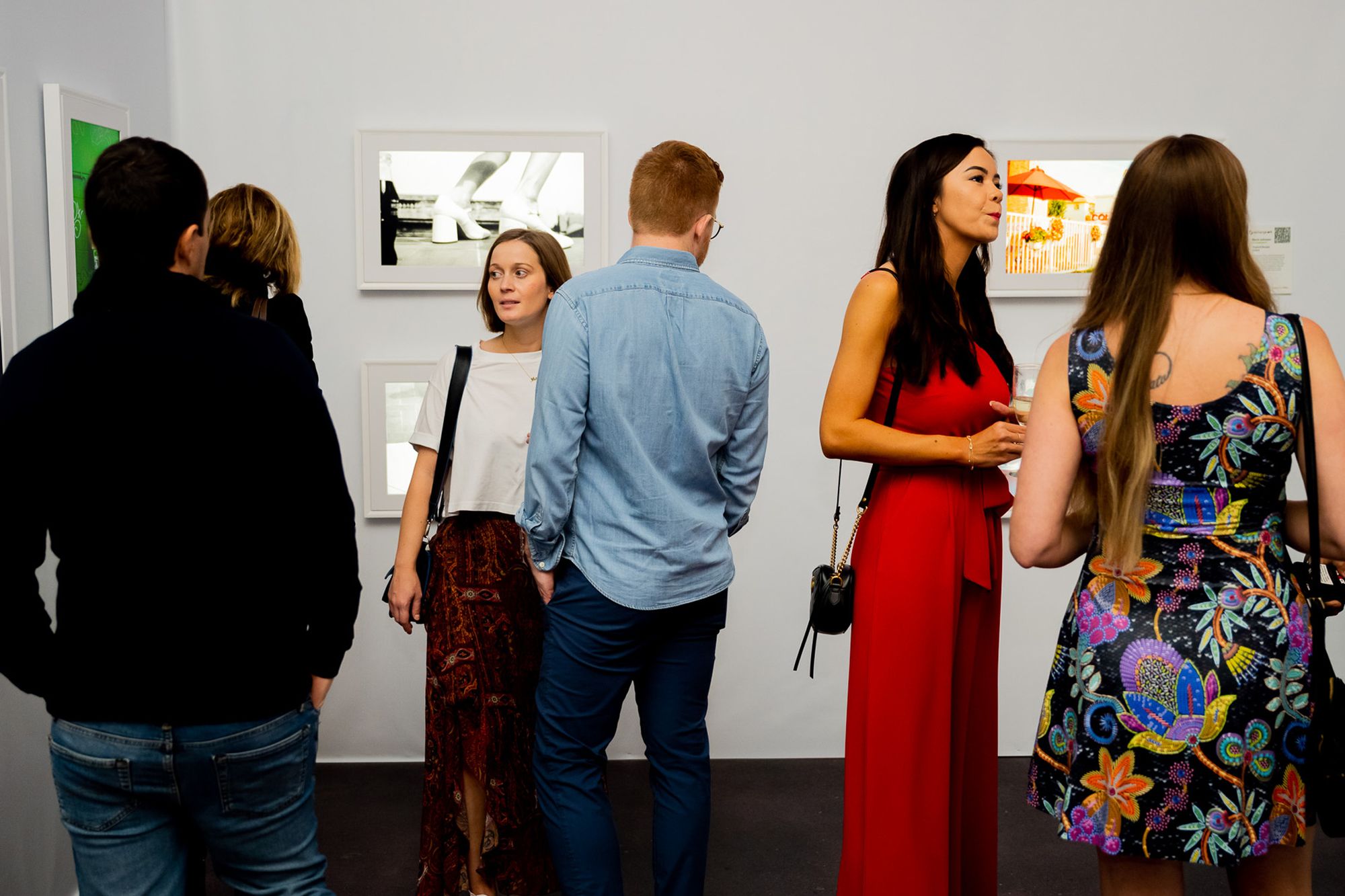 The Animated Video Gallery
One of the most exciting movements in digital art is animated video work. We showcased the work of Archie Morley, Duke, Ilan Derech, Laurence Antony, and Zigor.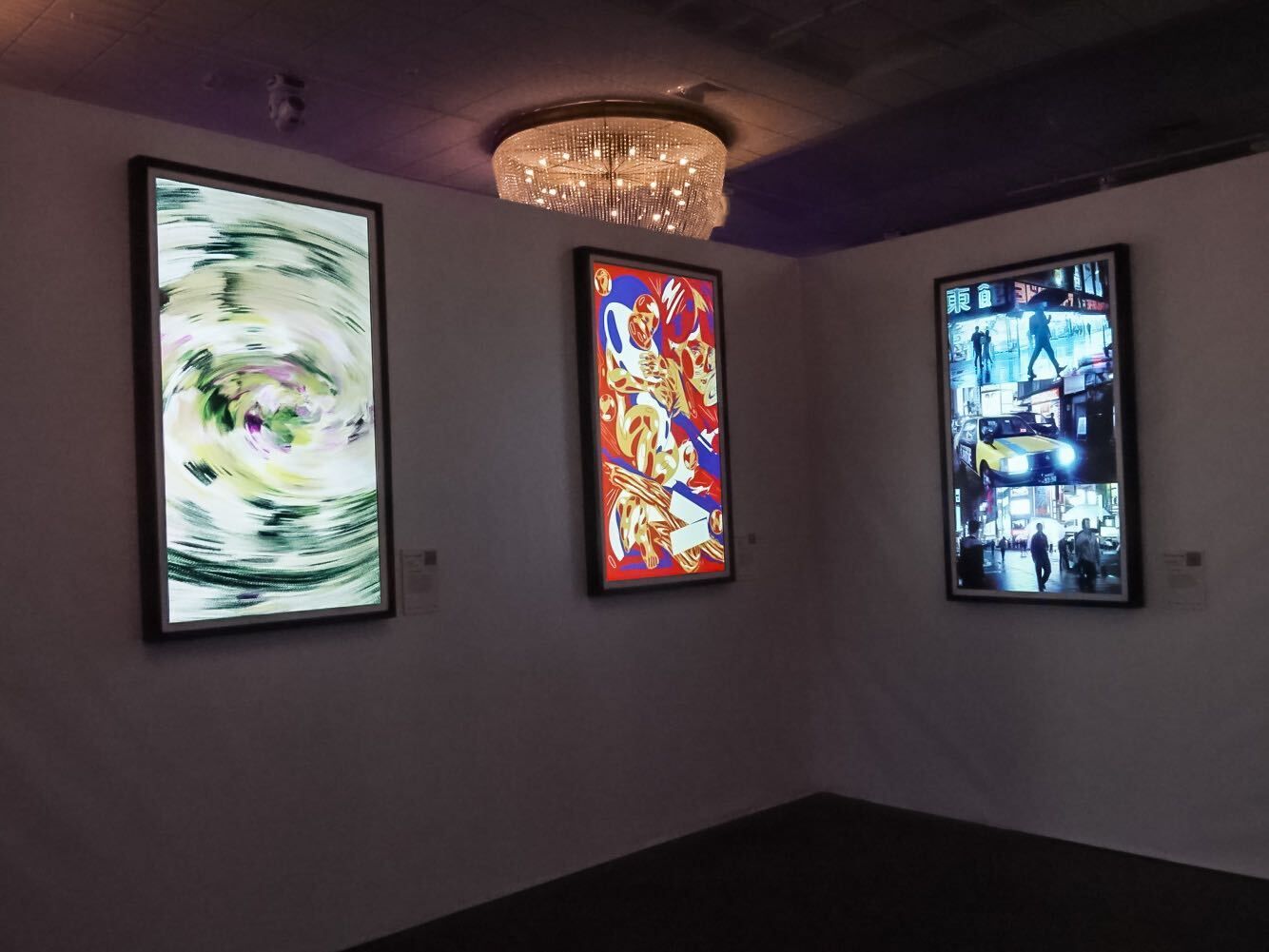 Immersed in the transition from physical to digital, Archie Morley highlights the transformational possibilities of combining traditional and digital art processes. His artwork explores the process of creating abstract digital art through scans of his acrylic physical paintings. Natural Calling brings abstract painting to life as a moving painting that reflects on the autonomous nature of the flow state.
Duke displays his award-winning story building, illustration, and animations skills through The Golden Crush. The EPOS OF EGGMIN series explores Duke's personal story - the Eggmin are the artist's alter ego that he has been developing since his youth. The elements, shapes, and colors evoke emotions and feelings while reflecting on his experiences and his past and present self.
Ilan Derech is a multidisciplinary artist who experiments with image making and storytelling through photography and cinematography. In Seconds of Life, Derech extends street photography, offering three perspectives of one moment through video. Each piece presents three layered, decelerated views of Japan. Electric Pulse displays the dark urban landscape of Tokyo, lit up with neon lights, while Infinite  showcase the tradition and zen side of Japan by capturing with the bright orange Torii arches and the burning candles of the Fushimi Inari Shrine. Both pieces were chosen to display the strong contest that Japan has to offer, and even though the are opposite poles, they blend together in harmony.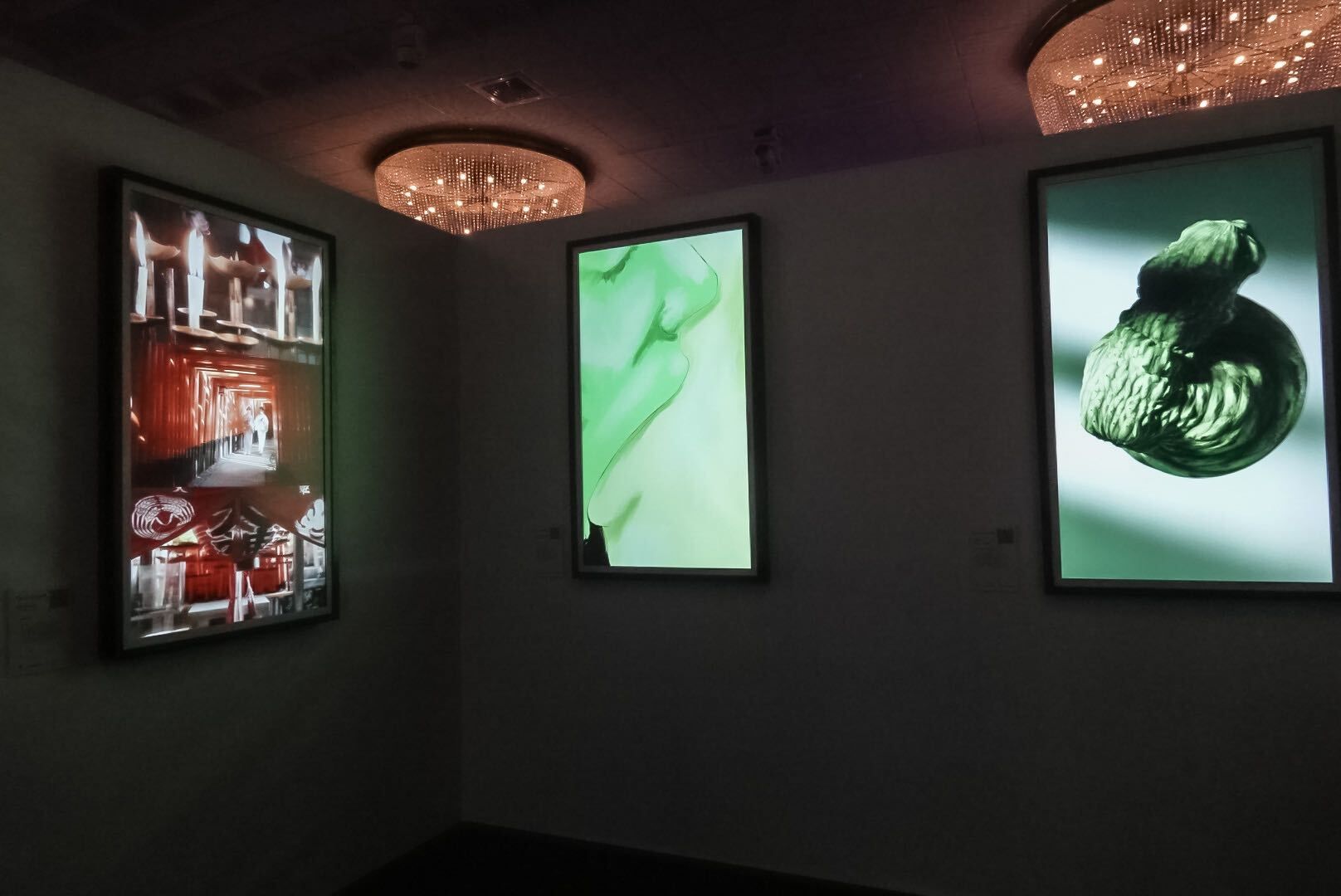 3D artist Zigor created this playful computer generated series, discrepant objects, which explores objects and shapes outside of their typical environments.  
Multidisciplinary artist Laurence Antony created a powerful, painterly work that embraces romanticism. Reunion synthesizes the passionate feeling of reuniting with a lover after a long period of being separated. The accompanying sound component by mint rain completes the piece.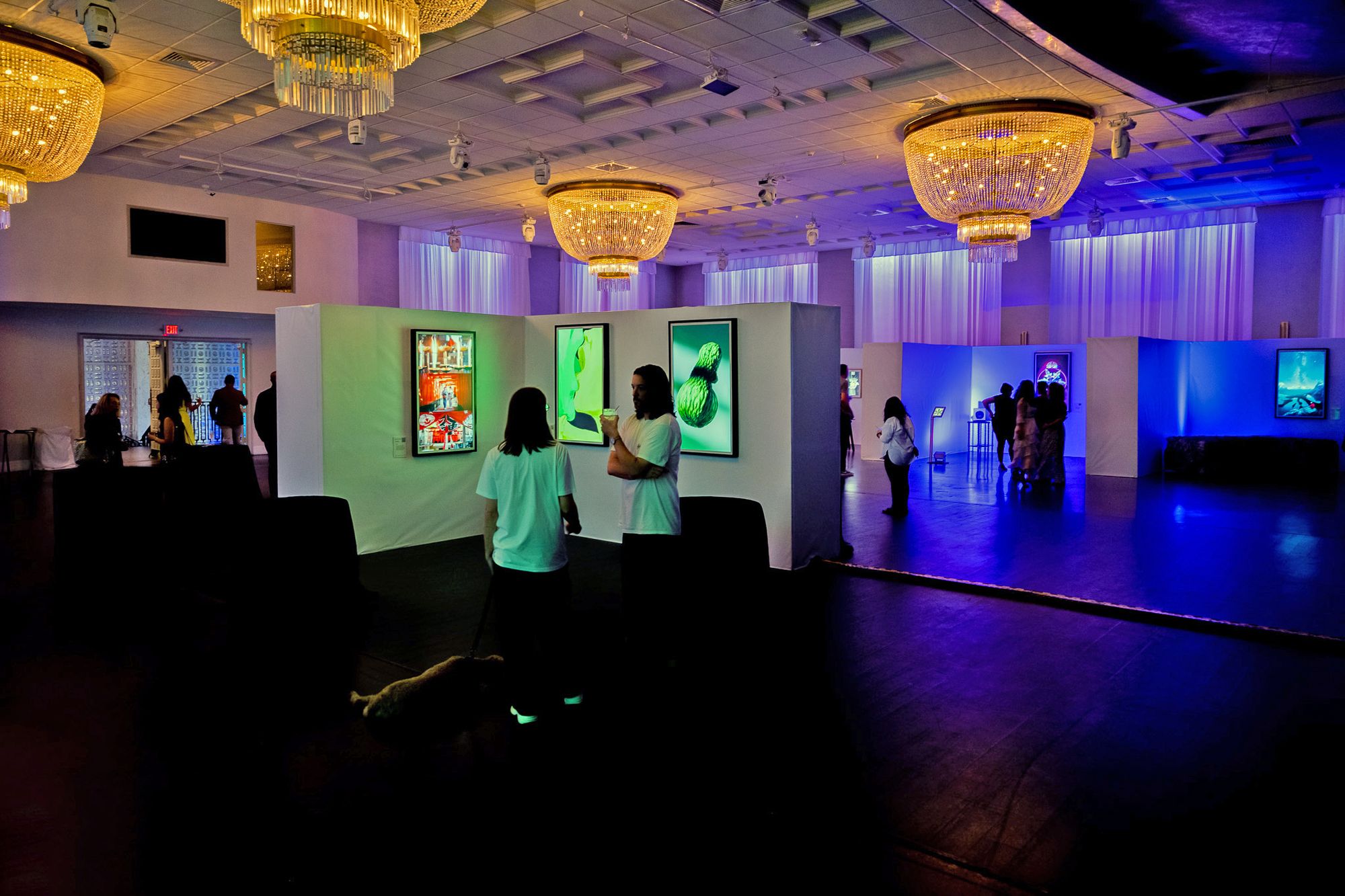 The Clear Light
This installation invited viewers to experience an animated original oil painting by Martin L. Benson. This meditative artwork was transcendent and otherworldly at this scale, enveloping the viewers.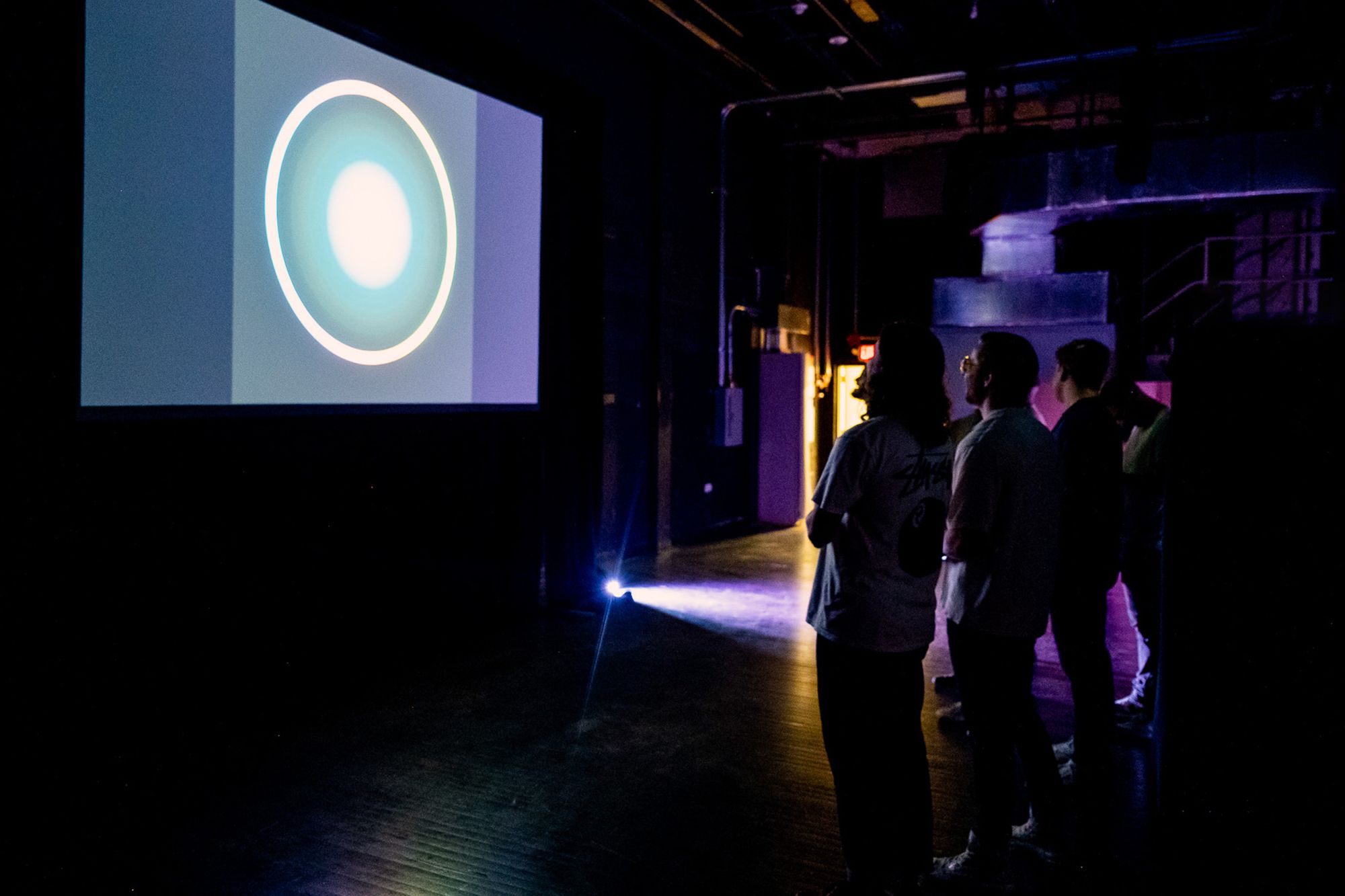 Our conclusion? NFTs are art. Digital art, sold as NFTs to preserve provenance, can be as creative and expressive as other forms of art, and can be appreciated for its aesthetic value and cultural significance.
Special thanks extended to our sponsors Meural by Netgear, Solana Foundation and TokenFrame for partnering with us to break the barriers of what is considered to fine art.
Thanks to all the artists and guests that joined us!