In July 2022, we had the honor of curating a digital art exhibition for the Solana x Jump Barcelona Hacker House, an event that celebrated the vibrant and eclectic art scene of Barcelona.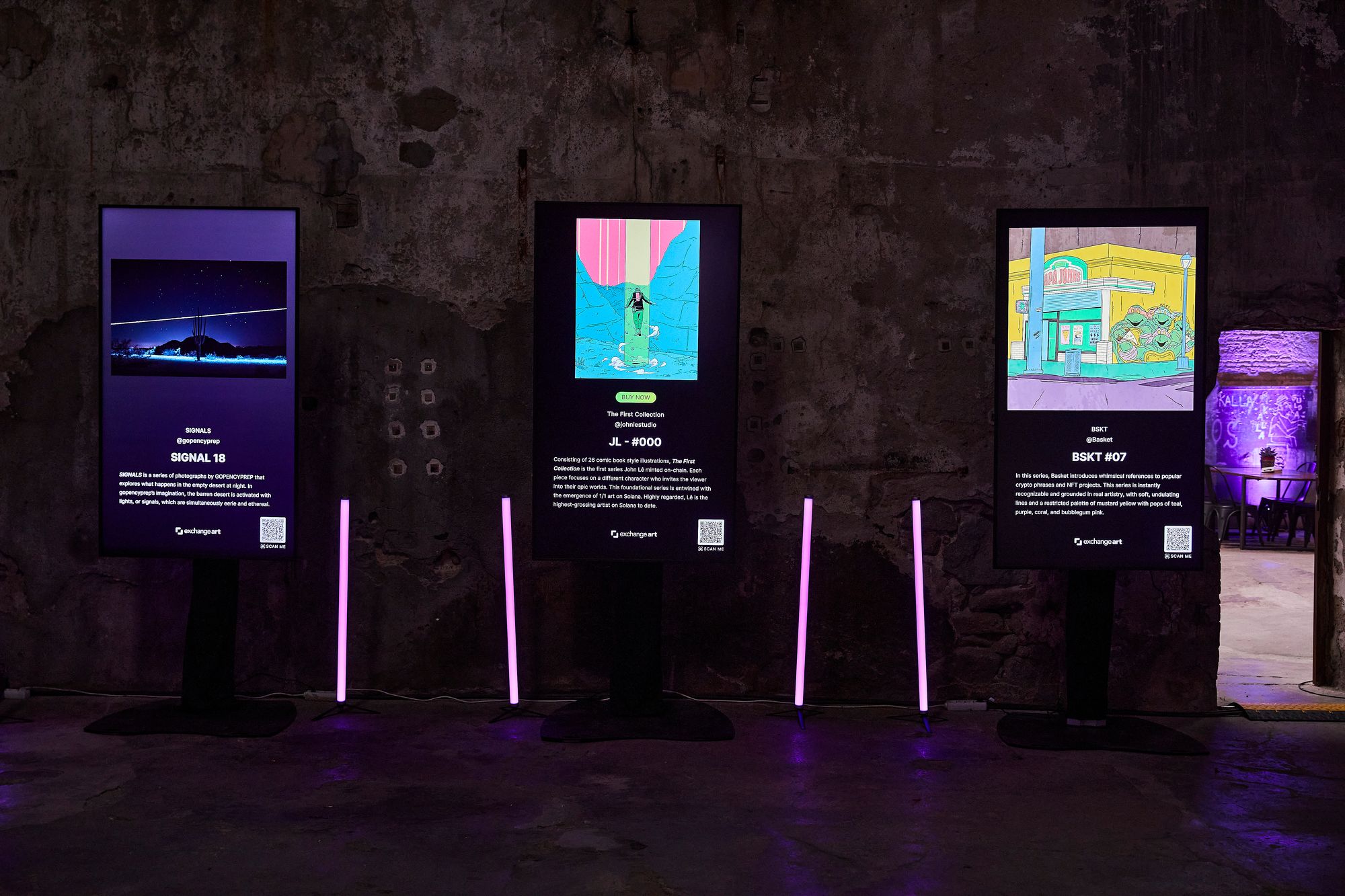 The location was a converted textile factory that provided a rich backdrop for the innovative and creative artworks that were displayed. The space was a true fusion of modernity and tradition, with old walls that had seen the passing of time and modern installations that reflected the cutting-edge art of the moment.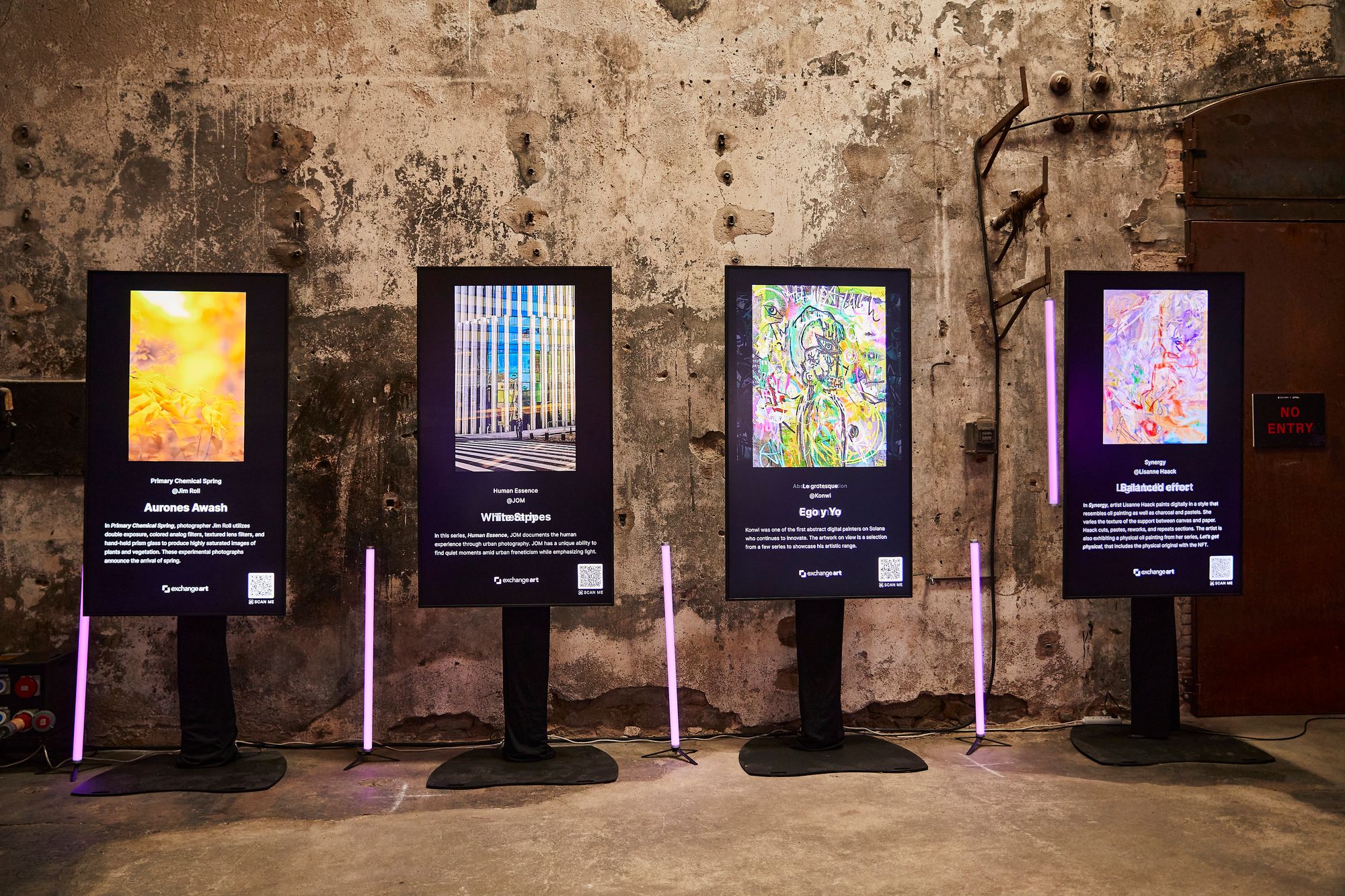 We meticulously selected a diverse range of artworks from local and international artists who embraced the essence of Barcelona's unique culture and its avant-garde spirit. The exhibition was a visual symphony that drew hundreds of visitors, all eager to witness the colorful explosion of digital art that filled the space.
Let's explore some of the exceptional pieces that were showcased and delve into the fascinating stories behind the artists who created them.

Basket
In this series, Basket introduces whimsical references to popular crypto phrases and NFT projects. This series is instantly recognizable and grounded in real artistry, with soft, undulating lines and a restricted palette of mustard yellow with pops of teal, purple, coral, and bubblegum pink.
2.  Rian Michelle
Barcelona-based Rian Michelle creates futuristic cities with strange, metallic skyscrapers. In a fascinating process, the artist uses real city data that he imports into a 3D scene and manipulates digitally.
3. Lisanne Haack
In Synergy, artist Lisanne Haack paints digitally in a style that resembles oil painting as well as charcoal and pastels. She varies the textures of the support between canvas and paper. Haack cuts, pastes, reworks, and repeats sections.
The artist is also exhibiting a physical oil painting from her series, Let's get physical, that includes the physical original with the NFT.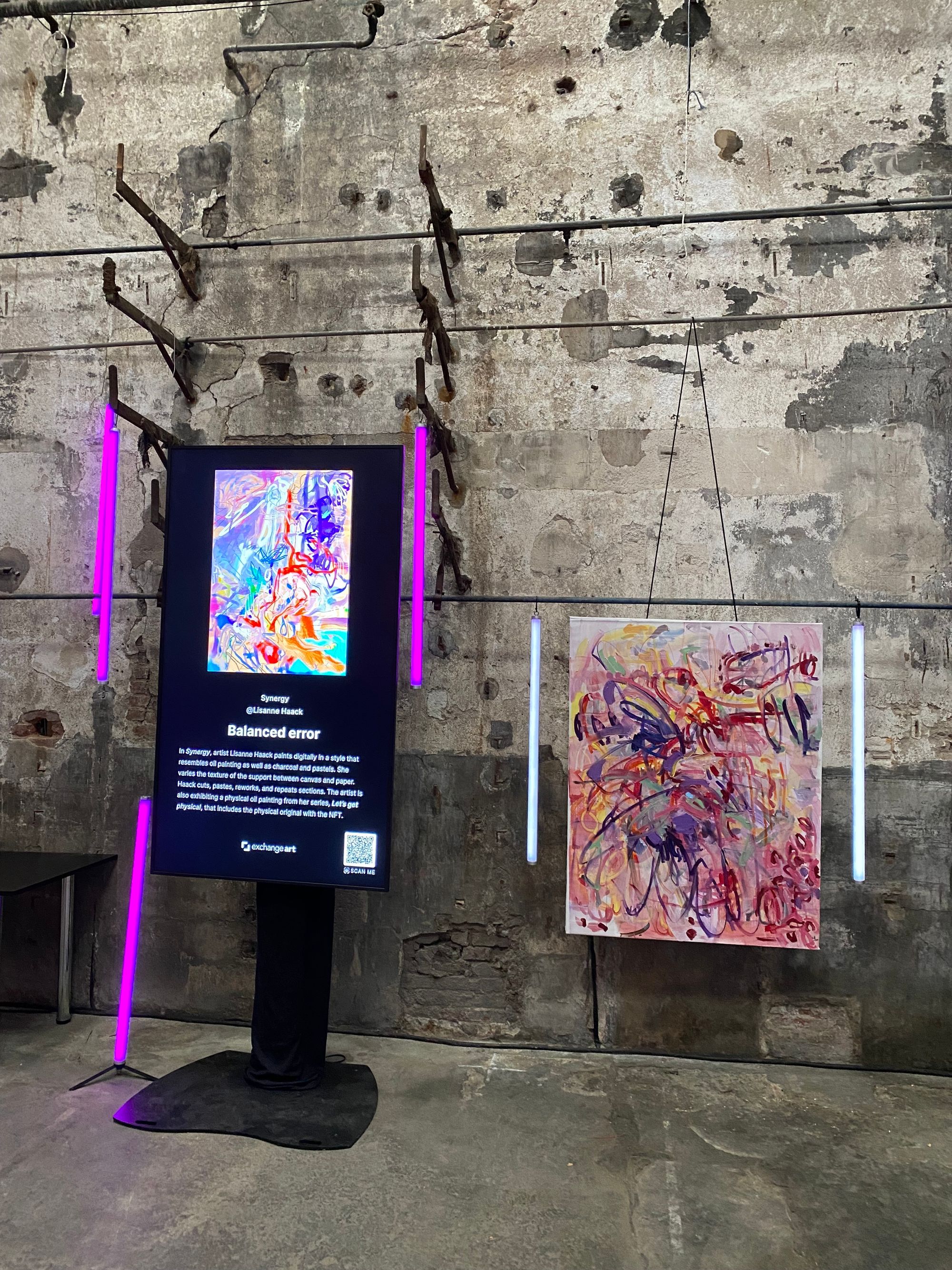 4.  Jim Roll
In Primary Chemical Spring, photographer Jim Roll utilizes double exposure, colored analog filters, textured lens filters, and hand-held prism glass to produce highly saturated images of plants and vegetation. These experimental photographs announce the arrival of spring.
5.  Sleepr
Sleepr is a super flat artist who uses vibrant colors and chaotic compositions to produce dream-like imagery from personal visionary experience. In this series, loose, abstract forms unfurl across the imaginative scenes.
6. Konwi
Konwi was one of the first abstract digital painters on Solana who continues to innovate. The artwork on view is a selection from a few series to showcase his artistic range.
7.  John Lê
Consisting of 26 comic book style illustrations, The First Collection is the first series John Lê minted on-chain. Each piece focuses on a different character who invites the viewer into their epic worlds. This foundational series is entwined with the emergence of 1/1 art on Solana. Highly regarded, Lê is the highest-grossing artist on Solana to date.
8.  Archie Morley
In Fragmented Expressions, Archie Morley creates emotion through the use of color and distortion in abstract painting. Morley begins with a physical painting, layering acrylic paint with palette knives and pours. He then scans the paining and continues to manipulate the image and introduce glitched elements. The finished pieces are a beautiful mix of the digital and the physical.
9. gopencyprep
SIGNALS is a series of photography by gopencyprep that explores what happens in the empty desert at night. In gopencyprep's imagination, the barren desert is activated with lights, or signals, which are simultaneously eerie and ethereal.
10. JOM
In this series, Human Essence, JOM documents the human experience through urban photography. JOM has a unique ability to find quiet moments amid urban freneticism while emphasizing light.