The New York Hacker House, sponsored by Solana x Jump x Circle, took place in New York City from June 7 to June 11! We enjoyed connecting with the vibrant creator and collector community in the city.
We were delighted to curate the Exchange Art Gallery, which showcased artwork that was either created by New York-based artists or broadly reflected on the vibrant city itself. The art looked fantastic in the subway-inspired installation!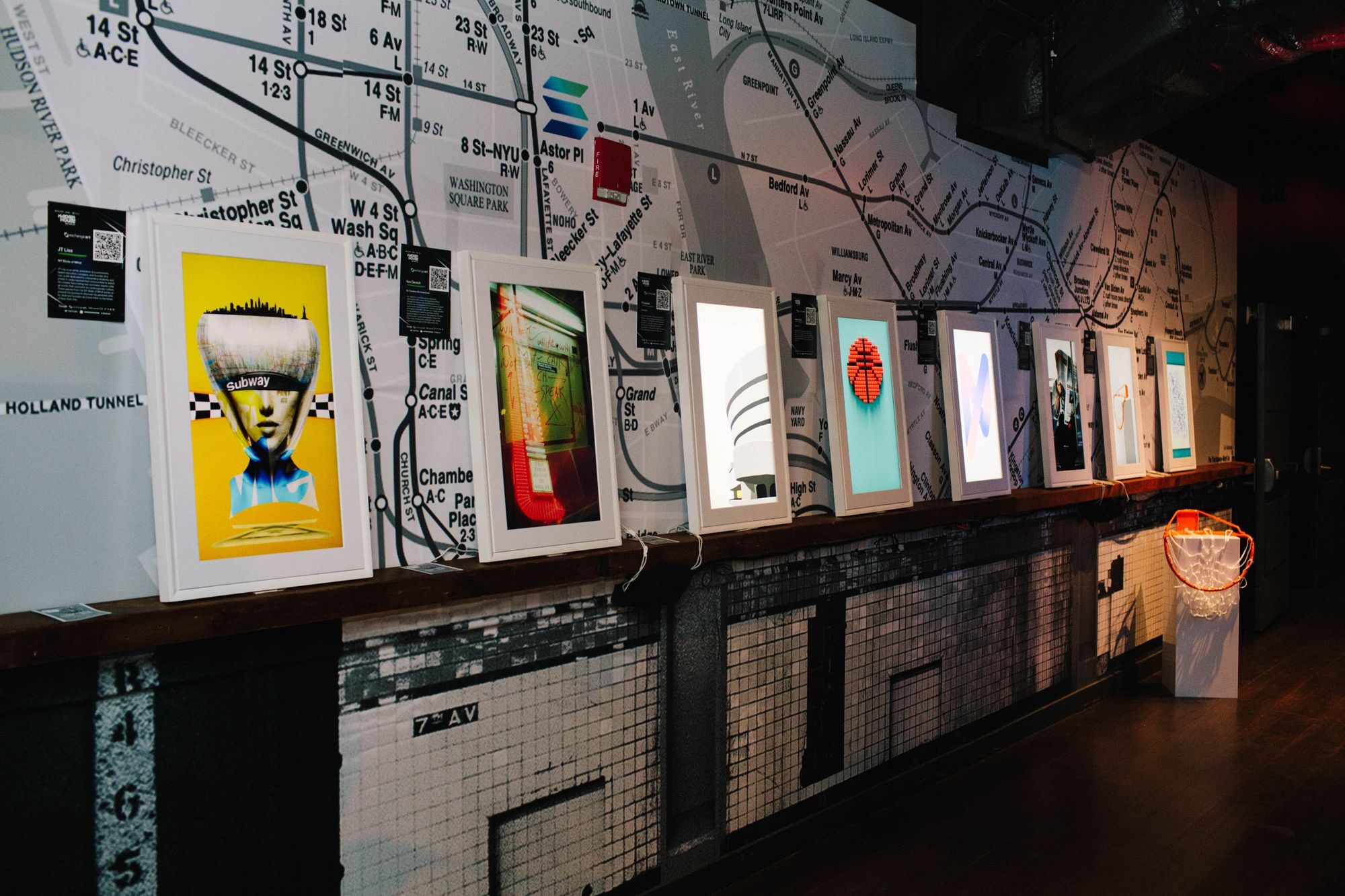 The panel was moderated by Goku and featured Hana Knight, JT Liss, Douglas McCurdy, and Vincenzo. They discussed how Solana enables creators to build community and monetize their artwork like never before!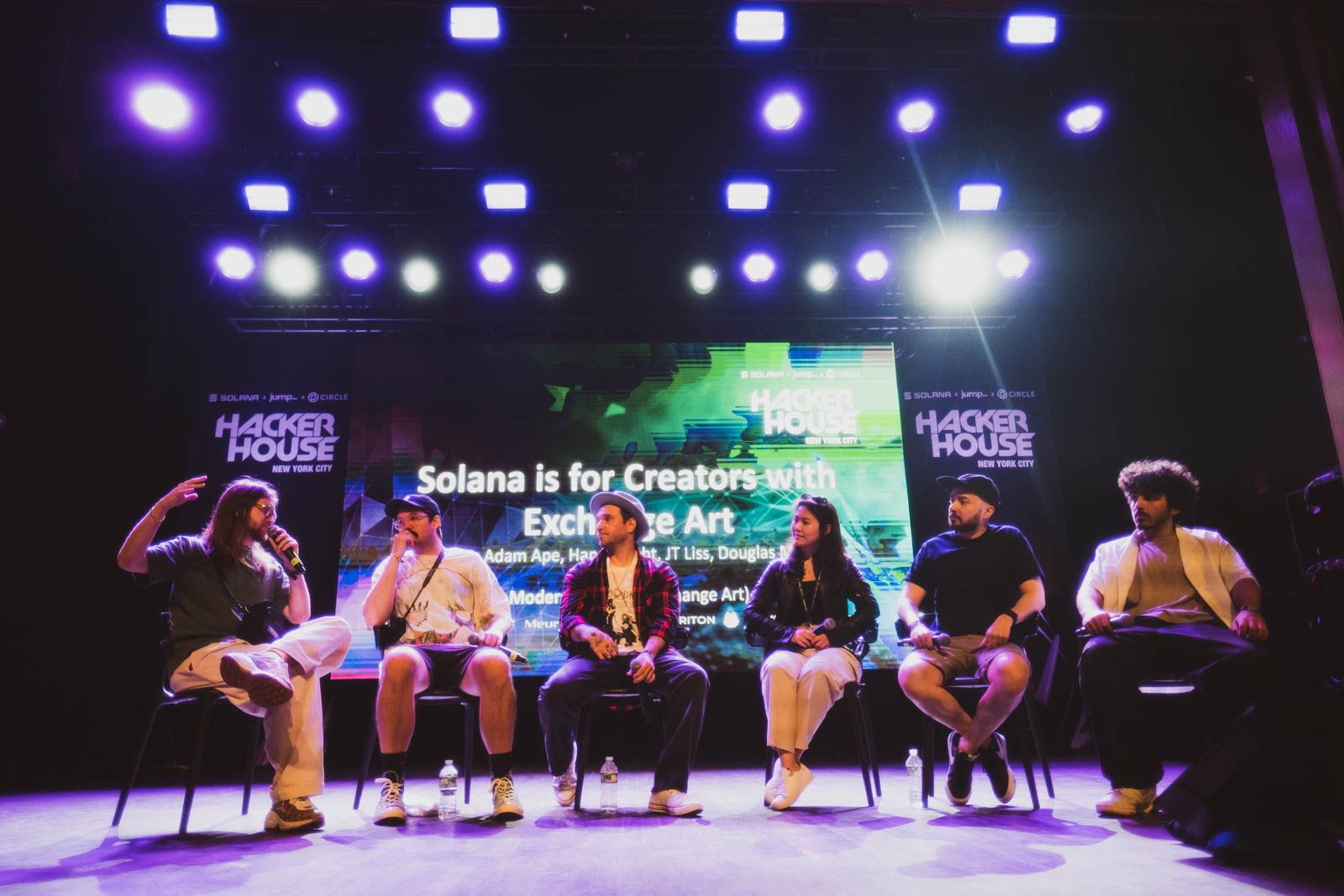 The Exchange Art Gallery
JT Liss is an artist, president of a community-based education company, and founder of a non-profit dedicated to onboarding students and artists in underrepresented communities to web3. He creates fascinating neo-surrealist digital collage works that comment on contemporary culture. These pieces from his NY State of Mind series represent his journey to discover his personal artistic style and function as a love letter to his home of New York City.
Ilan Derech is a multidisciplinary artist who experiments with image making and storytelling through photography and cinematography. As a documentary photographer, he has traveled the globe, capturing the world around him, creating cinematic works that offer a glimpse into a larger storyline. He has developed a personal aesthetic of three layered images in one piece. This series, So Timeless So Americana, is street photography of New York City in high contrast and a saturated color palette, emphasizing the lights of the highly urban city.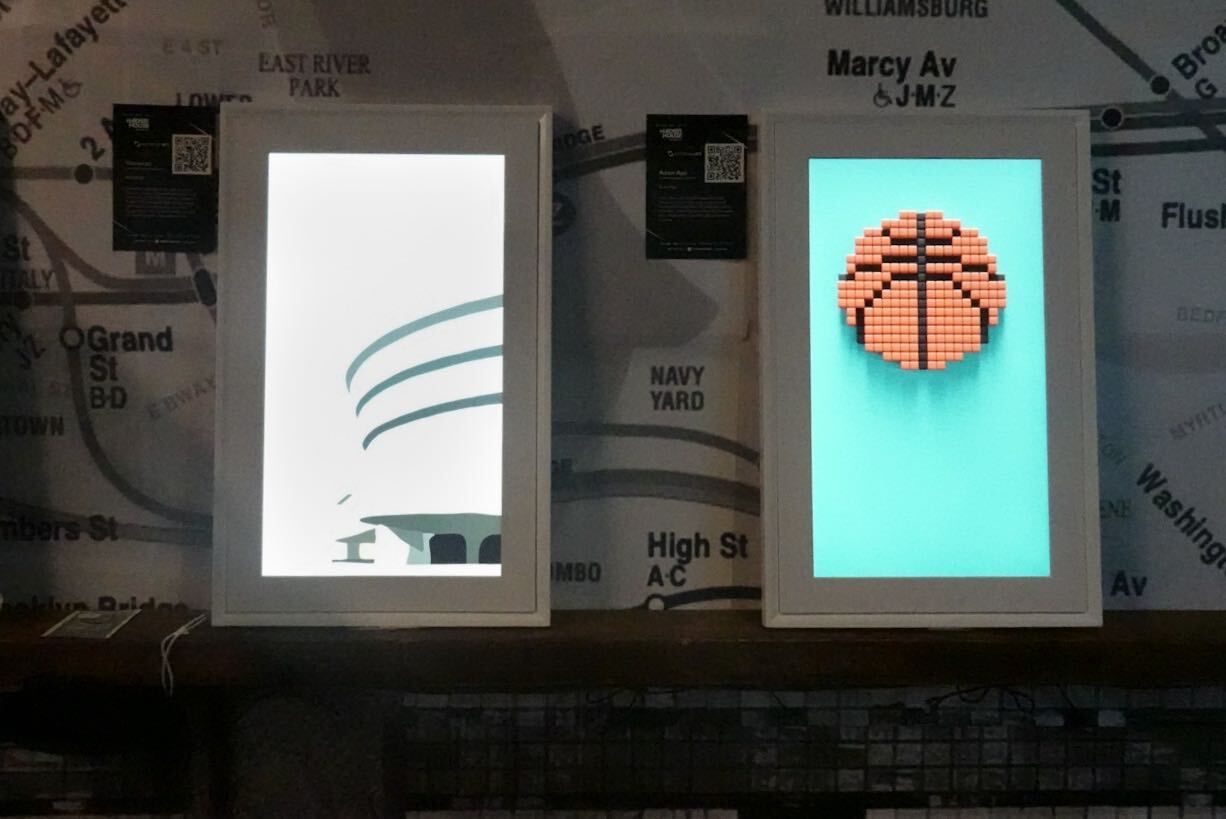 Vincenzo, a student at Parsons School of Design, creates minimalist landscapes and cityscapes. In NYC2023, a series inspired by New York, the artist depicts downtown skyscrapers, the distinctive, rounded Guggenheim, and a puff of smoke. He uses flat, unmodulated colors and soft lines.

Adam Ape is an incredibly talented artist, designer, and animator who created Voxel Monkeys, a foundational 3D animated series on Solana. Voxel Play consists of 24 whimsical item-based animations that extend the Voxel universe.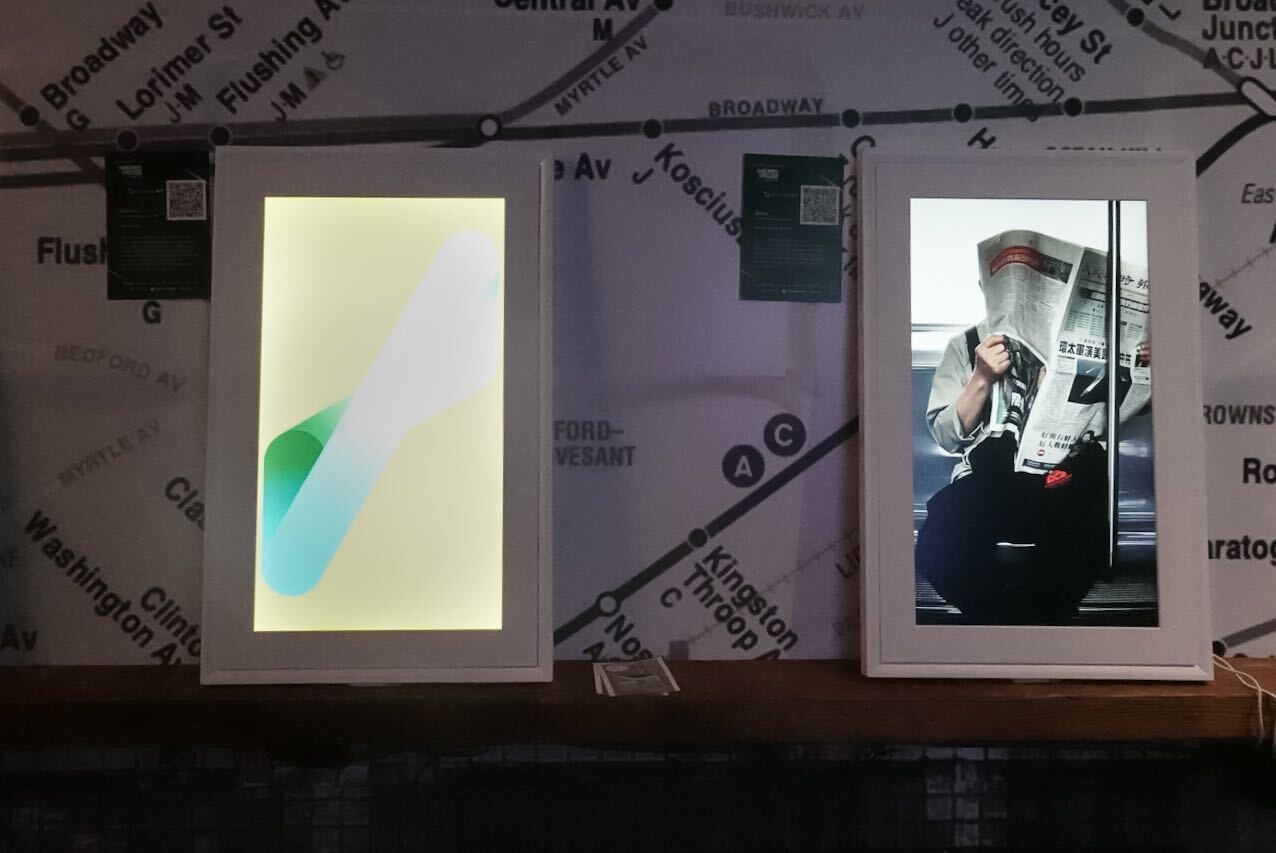 Daeinc is an artist and designer who mainly works with computer programming to explore and express rhythms and movements using a variety of media, including animation, printed forms, and interactive applications. Sequenced is an exploration of generative motion compositions through predictive sequences and endless random permutations.
Goku is a photographer and Head of Community at Exchange Art. A series of digital photographs taken over 5 years while living in New York, Moments in New York represents the artist's meditative practice while shooting street photography and capturing the beauty in everyday life.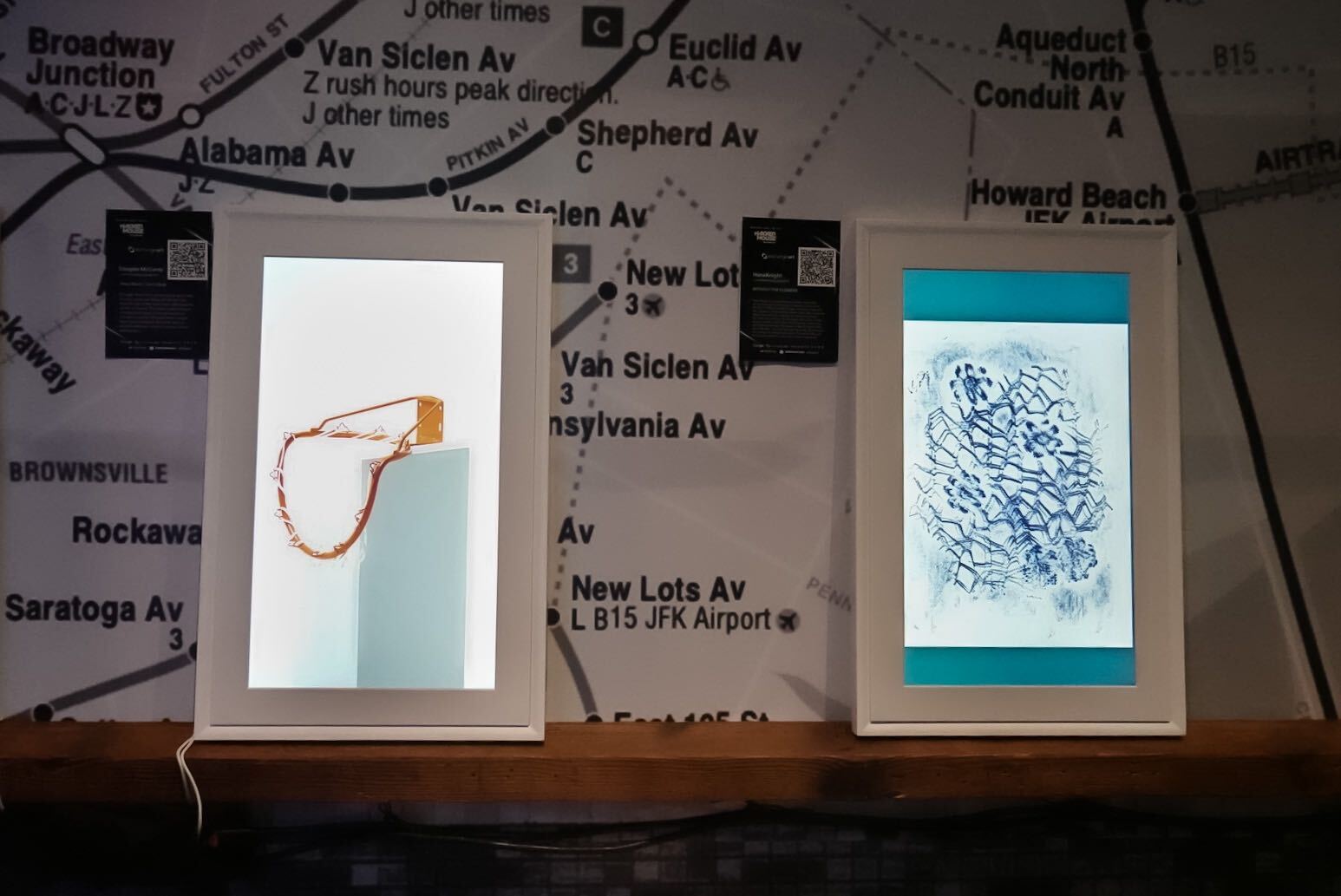 Douglas McCurdy is a conceptual artist who focuses on basketball hoops. Can't Dunk is a fascinating series that combines physical sculptures with digital art, challenging the perception of ordinary objects. The works exist as physical sculptures molded from basketball hoops into innovative forms. This series also exists as digital editions, and the artist will create physical collectible miniatures of these objects. We were thrilled to display one of the physical sculptures while the digital editions were on view in the Meural frames.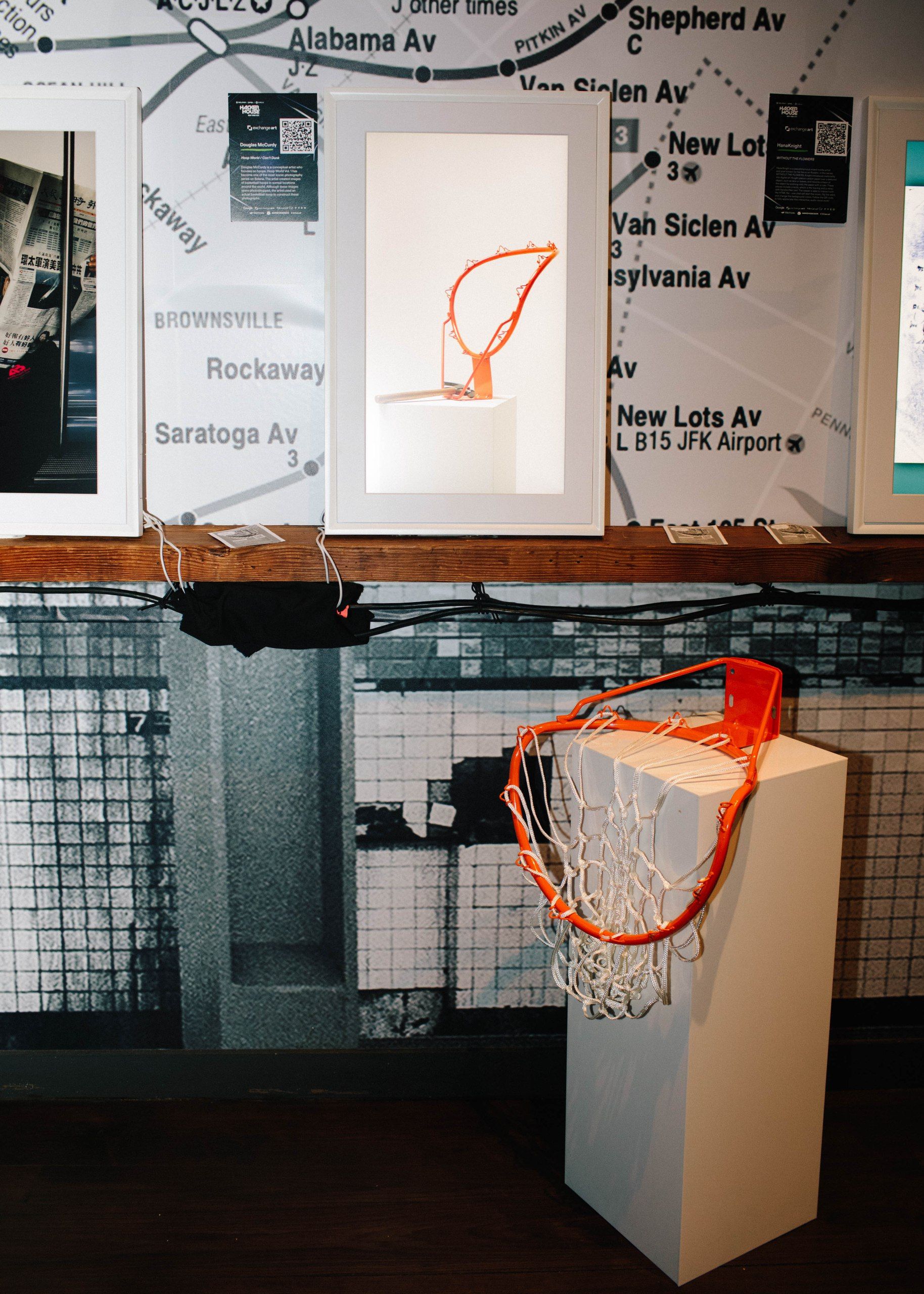 Hana Knight is a pseudonymous mixed-media artist and poet known for her focus on flowers. In this series, WITHOUT THE FLOWERS, Knight introduces materiality into digital art. Knight places carbon paper over a textured object, such as lace or leaves, and records a trace of the object by pushing onto the paper with a ruler. These pieces include a recto, which is the tracing, and a verso with handwritten text. The viewer can interact with the HTML file - one click will start the music, flip the work, and change the background colors.