As we step into our homes, we are greeted by familiar sights, sounds, and smells. But what if our living spaces were more than just familiar? What if they were unpredictable, thought-provoking, outrageous even? Your bedroom headlamp can be a croissant, your couch can have the shape of two red lips and your armchair can have the shape of an apple and a black bowler hat. Sounds crazy, right?
Eccentric designers and homeowners are set to challenge the way we're looking at mundane objects that surround us in our homes again. Surrealist interior design offers a fresh perspective on our everyday surroundings. It encourages us to play with textures, colors, and shapes in unexpected ways, allowing us to express our creativity and individuality in our living spaces.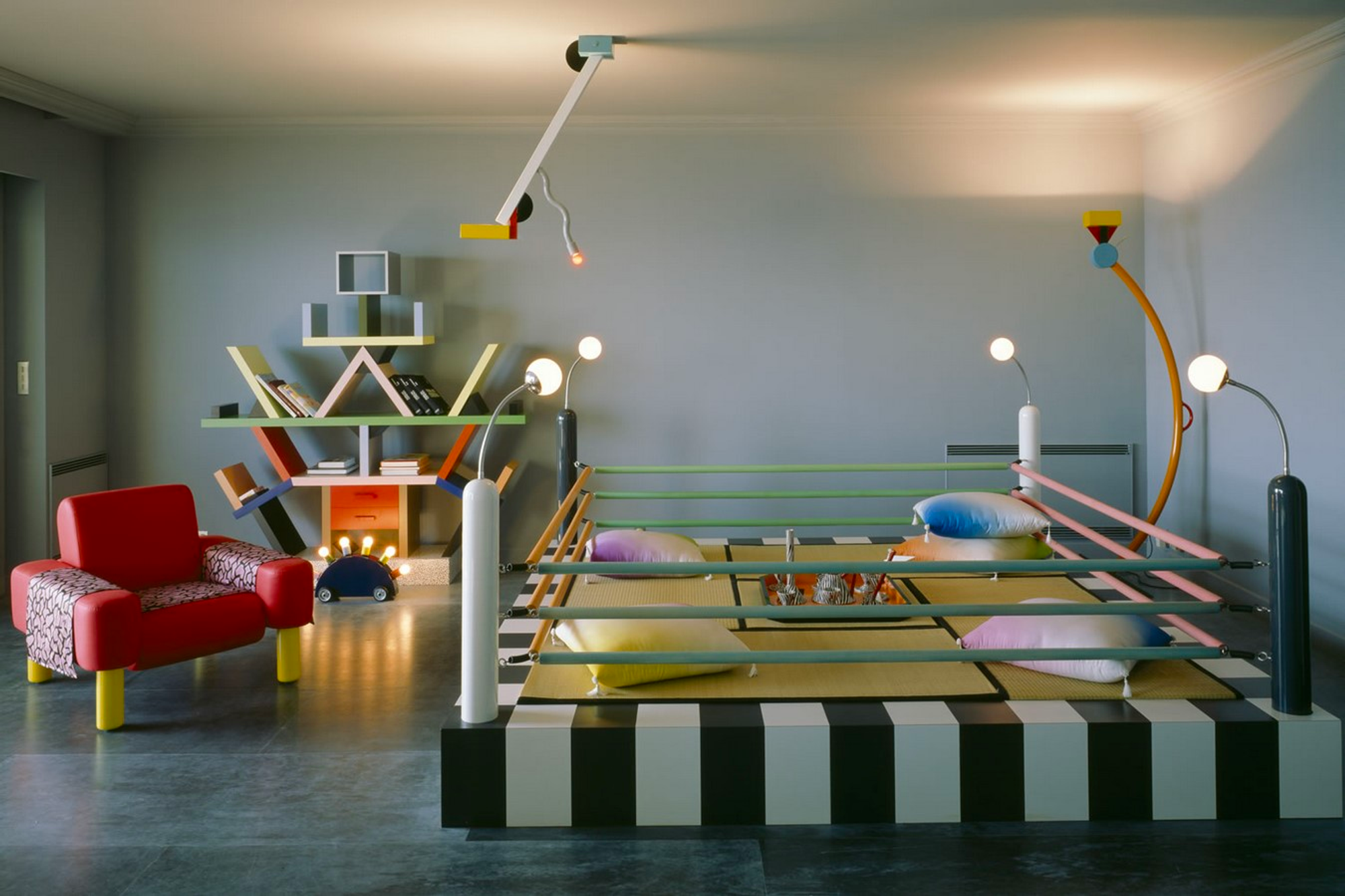 And with luxury fashion houses such as Loewe incorporating surrealist elements into their collections, it's clear that this trend is not just for the art world anymore.
How to Incorporate Surrealism into Your Contemporary Interior Design
If you are looking to create a living space that is truly unique and visually striking, you may want to consider an eccentric interior design style that integrates digital art.
To help you achieve this distinctive aesthetic, we've compiled a list of key characteristics that define this style, along with suggestions of digital artworks that can be incorporated to bring your vision to life.
The key features you would be looking for to create an eccentric interior design with surrealist accents are: unexpected combinations, playful accents, bold colors and organic shapes.
So, whether you're a digital art enthusiast or simply looking to add a touch of modernity to your living space, read on to discover how to create a captivating eccentric interior design.
1. Unexpected combinations
Surrealism is known for its unexpected juxtapositions, and this can be translated into interior design by combining elements that wouldn't typically be seen together. For example, a traditional chandelier hanging above a modern dining table or a vintage rug paired with sleek, modern furniture makes for an eccentric design.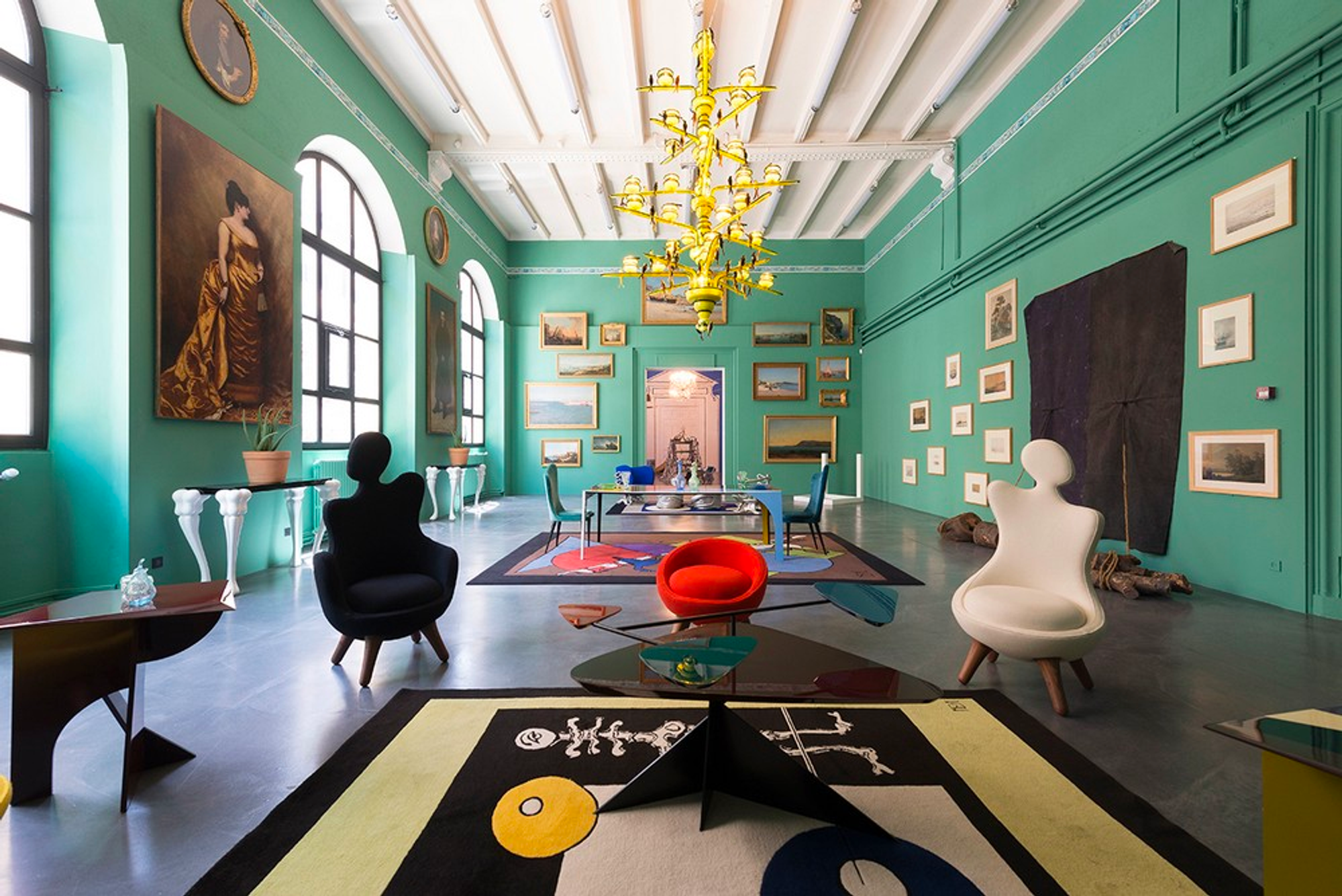 How did we, at Exchange Art, created an eccentric space with surrealist accents?
Projected against marble flooring at the grand entrance, a projected rug that feels alive, adorned with symmetrical birds chirping welcomed our guests at the NFTs: Bagatelle or Art? event during Miami Art week.
Jason Seife's stunning Phoenix Rising danced across the entry way, captivating entrants with his 3D animated modern take on Persian carpets. This piece is based on an original painting which the artist animated so that the flowers and birds blossom and fly. Viewers could walk across the piece!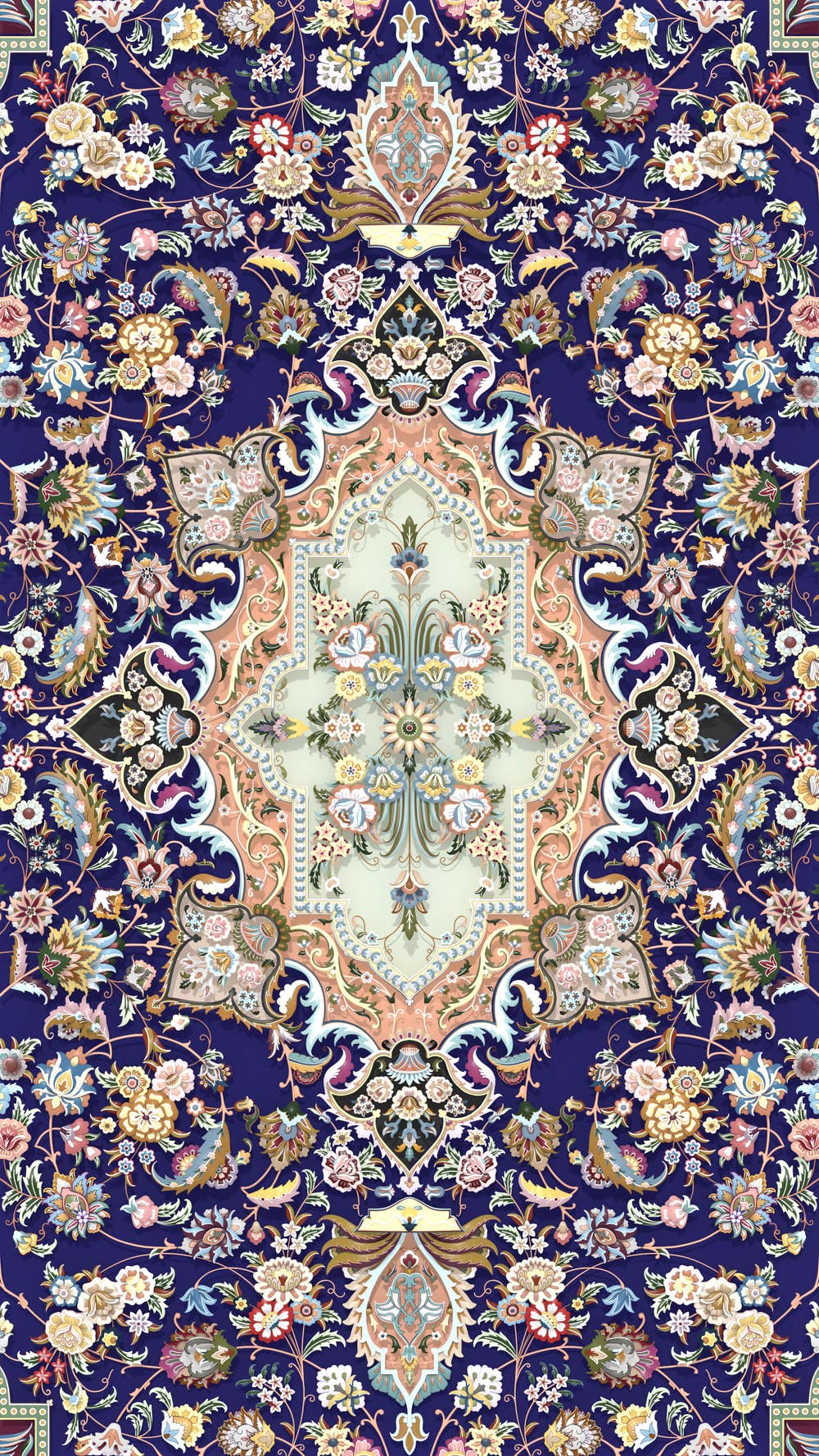 Another eclectic interior design that we showcased during the NFTs: Bagatelle or Art? show mixes traditional furniture, classy chandeliers with digital abstract art, and highlights digitally native works to not only showcase the feel of the digital art in the home but the depth of the medium of abstraction. Artwork by GSON, Sir Wayne Nooten, Fallen, Flat, and Sleepr were displayed.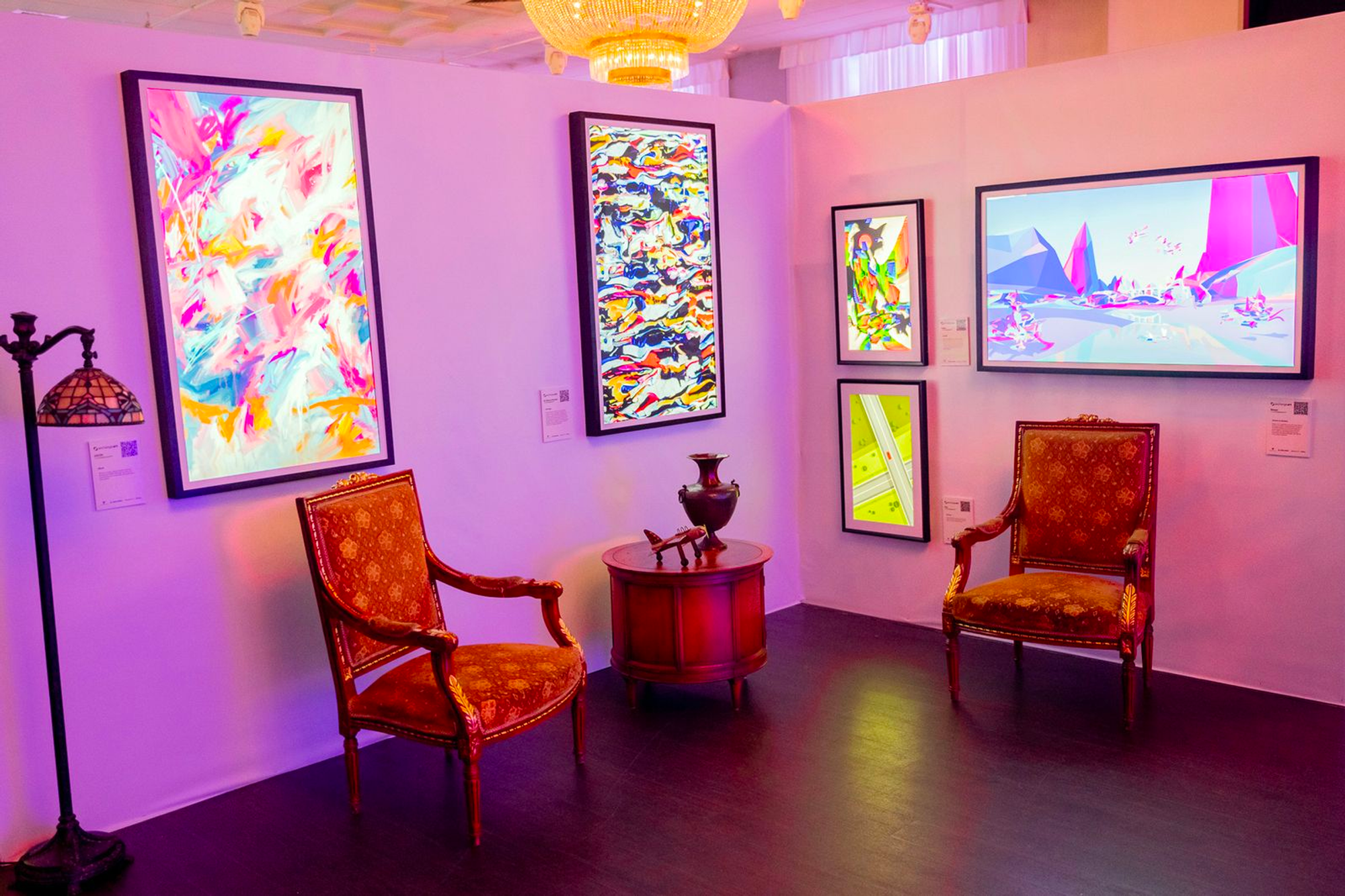 You can find more inspiration here.
2. Playful accents
Surrealism often incorporates playful and whimsical elements, and this can be reflected in interior design through unexpected accents such as a wall covered in quirky wallpaper, a light fixture shaped like a giant flower, or a statement piece of furniture with an unusual shape or texture.
Studio™ designs pioneering objects that function in both the digital and physical worlds. These woven vessels can be used in the metaverse and viewed three dimensionally. They can also be 3D printed to serve as functional objects in the physical world. The vessels are printed in recycled plastics and the shoes are printed in recycled ruberized polymer.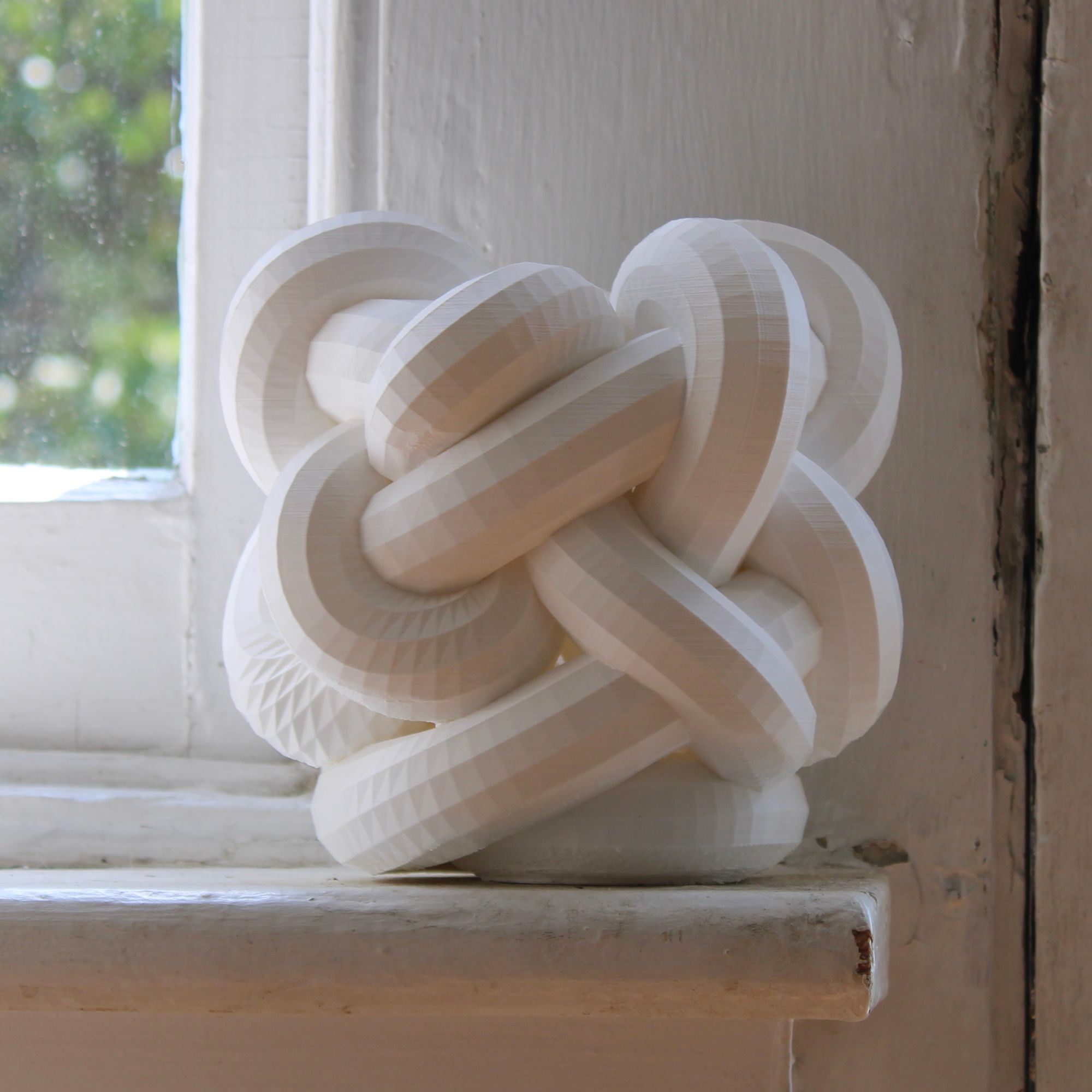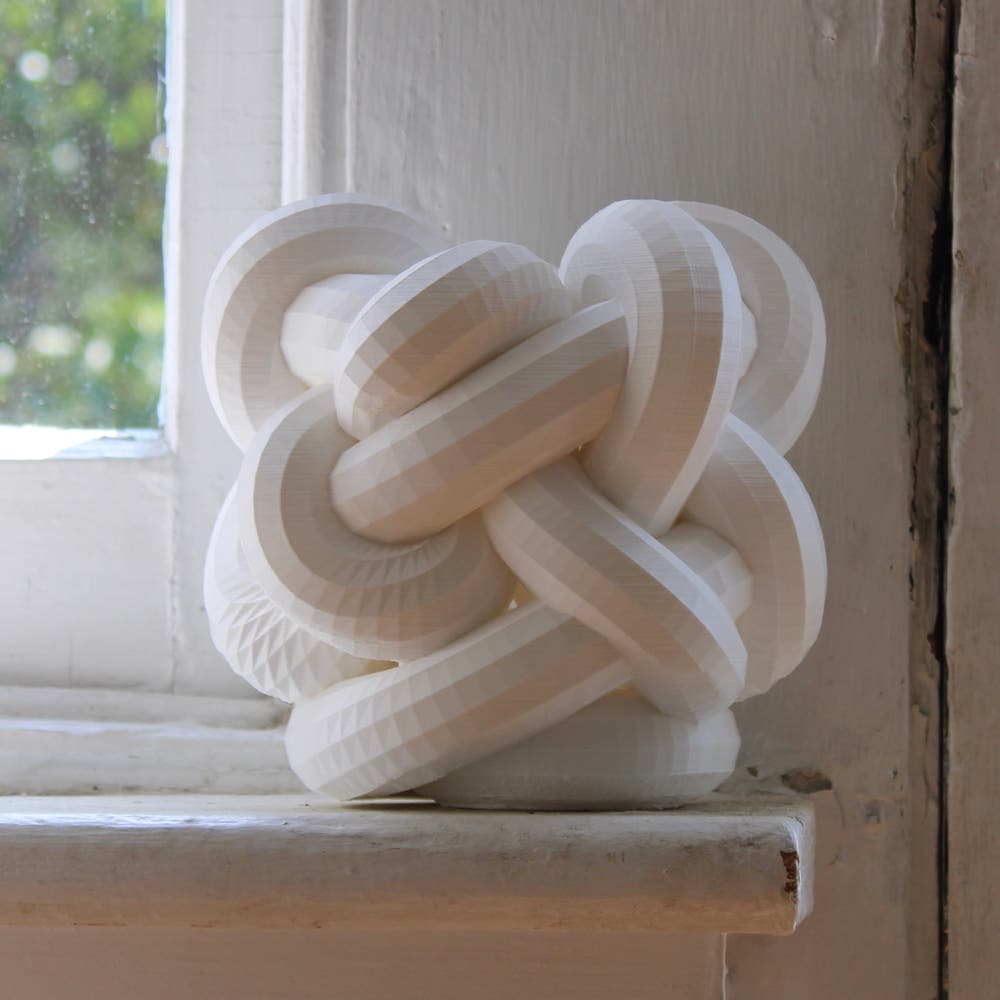 3. Bold colors
Surrealism is known for its bold use of color, and this can be reflected in interior design by incorporating bright, unexpected hues into a space. For example, a living room might feature a bold red sofa, a turquoise accent wall, or a neon pink rug.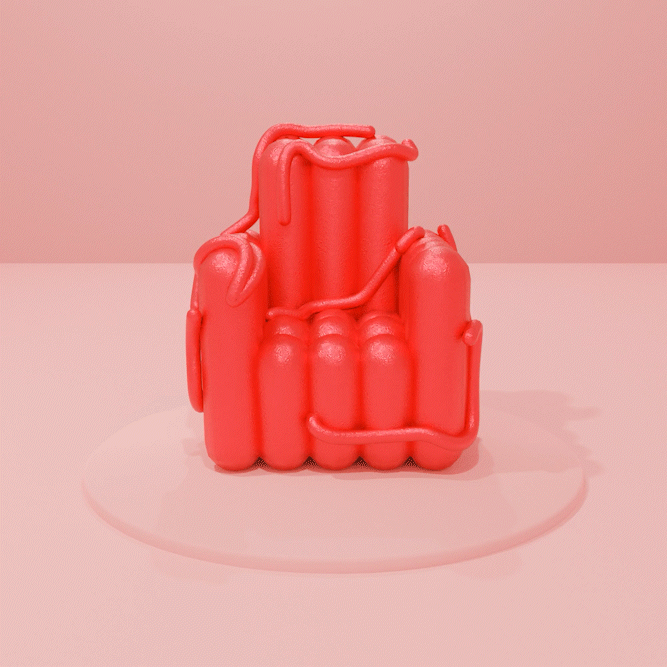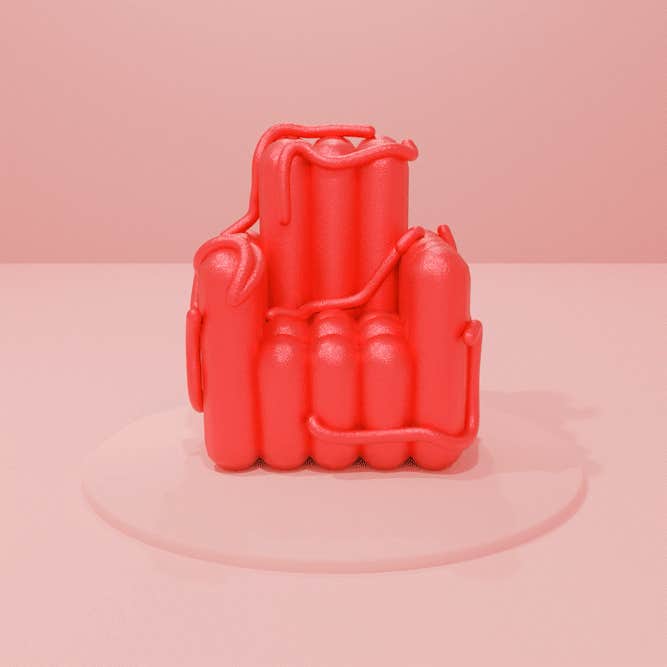 4. Organic shapes
Surrealism often features organic, flowing shapes, and this can be reflected in interior design through the use of curvy, sculptural furniture and accessories. For example, a room might feature a sofa with sinuous curves, a coffee table with an organic shape, or a pendant light with a fluid, sculptural form.
A piece that can be explored is 02/Diescrepance of 3D artist Zigor who created this playful computer generated series, discrepant objects, which explores objects and shapes outside of their typical environments.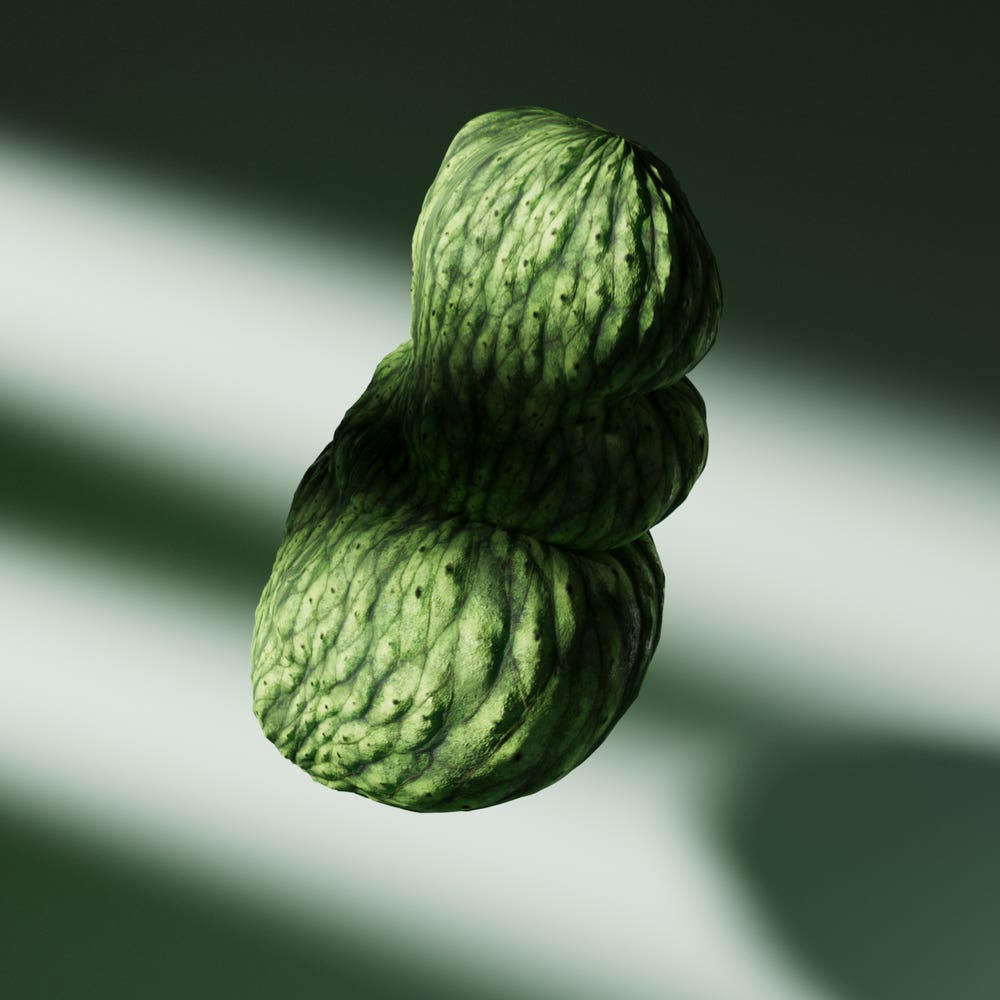 How did we display it?
Overall, surrealism in interior design in 2023 will be all about embracing the unexpected, the playful, and the bold, and creating spaces that are truly unique and memorable and digital art can feel right at home if this is the atmosphere you are going for.
Surrealism in Interior Design: Tracing its Evolution through Time
Surrealism was born out of the profound anguish experienced by poet André Breton, who witnessed the agony of soldiers in a hospital during WWI. Drawing inspiration from Sigmund Freud, Breton set out to unleash the power of the mind from the limitations of rationality. The movement rejected conventional norms and instead celebrated free association and experimentation with different forms of artistic expression.
Equally as provocative as the artworks mentioned above, the pieces created by Salvador Dalí outraged the public almost 100 years ago.
One of the most renowned examples of a domestic Surrealist interior in Britain was Monkton House, the country home of Edward James - an avid collector, poet, and prominent patron of Dalí. In the mid-1930s, James transformed Monkton House into what he referred to as "a complete Surrealist house", blending his predilection for Victorian, Edwardian, and Surrealist aesthetics. Working in tandem with Dalí, James designed a range of eccentric furniture pieces that are now part of the V&A collection.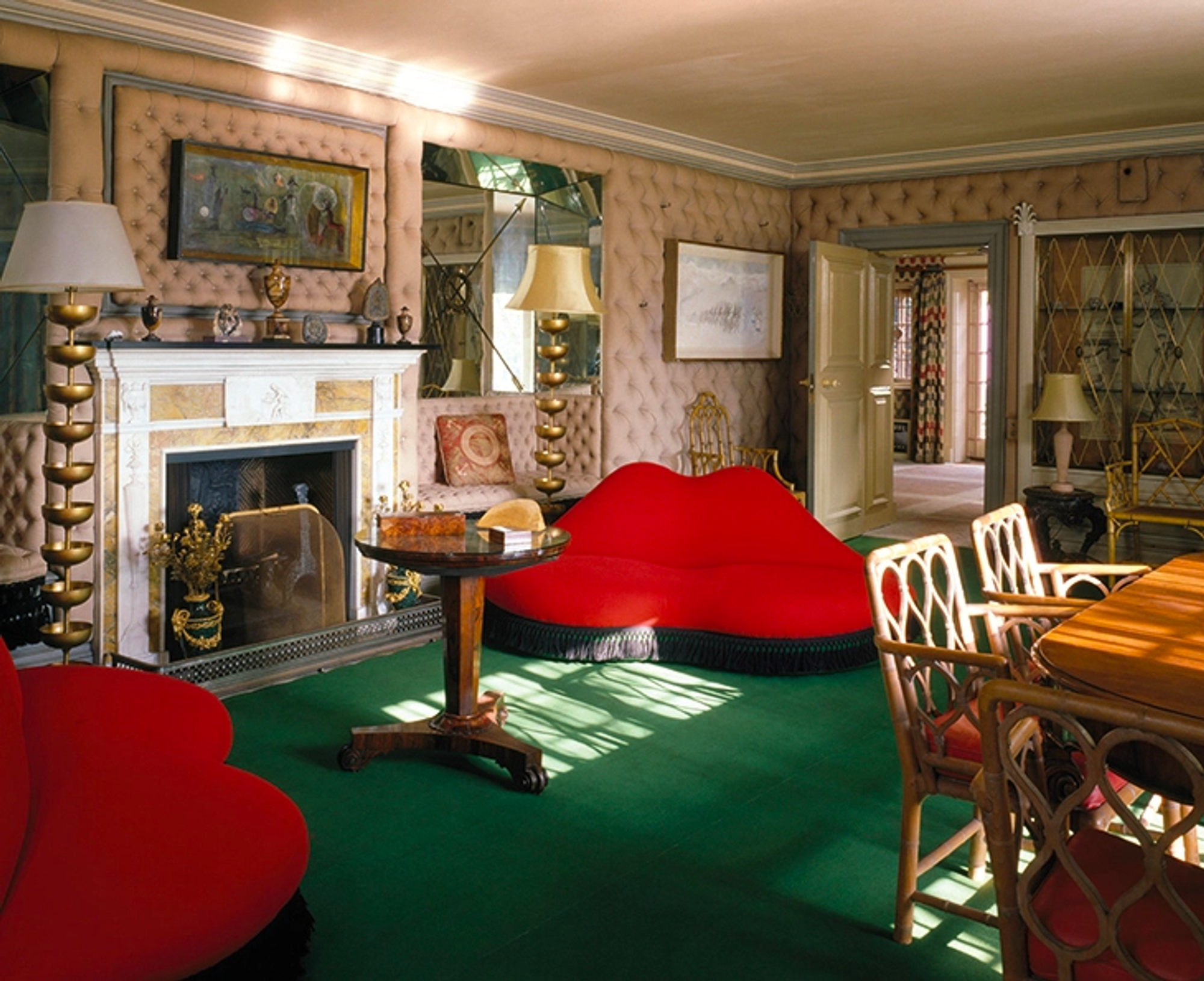 The drawing room at Monkton House is a sight to behold, featuring a pair of eye-catching 'Lips' sofas (1938-39) and extravagant 'Champagne' standard lamps (1938) - all designed by the dynamic duo of Salvador Dalí and Edward James. The Surrealist interior of Monkton House truly pushed the boundaries of what was considered acceptable at the time, inviting viewers into a world where the familiar was upended and the imagination could run wild.
One of the most well-known examples of a Surrealist object is the Lobster Telephone (1936) created by Dalí. Other artists were also inspired by this approach and started to construct new objects by reusing old and outdated commodities. Through strange combinations that hinted at personal dreams or desires, these objects were able to convey new meanings.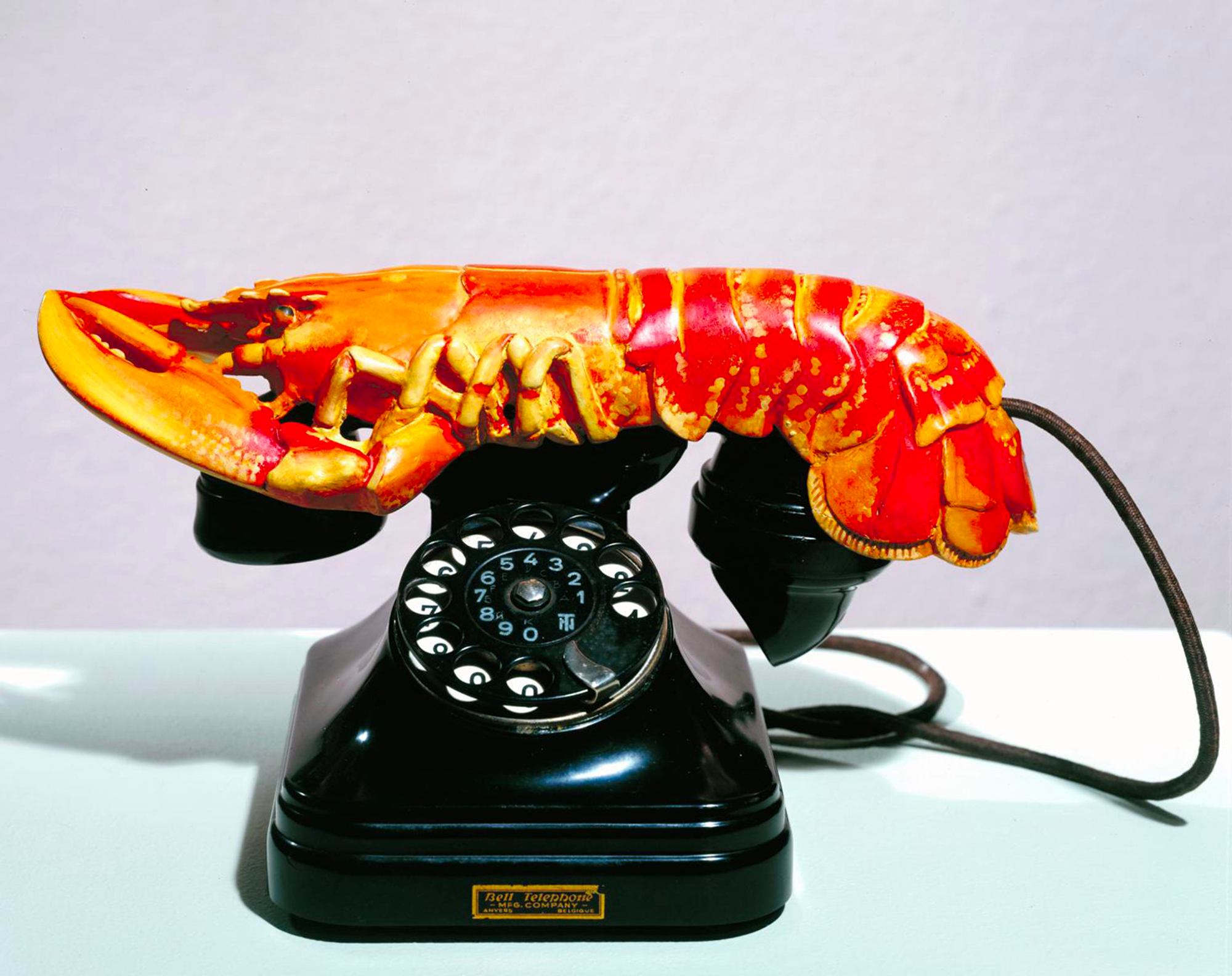 Why interior design with surrealist elements?
It breaks the rules
Surrealism interior design breaks the traditional rules of interior design. It challenges the conventional norms of what is considered aesthetically pleasing and instead embraces the unusual and the unexpected. With Surrealism interior design, you can create a space that is truly unique and unconventional.
2. It sparks imagination and creativity
Surrealism interior design encourages imagination and creativity. It allows you to create a space that reflects your personality, interests, and individuality. It is a form of self-expression that can inspire others and spark their imagination.
3. It creates an otherworldly atmosphere
Surrealism interior design creates an otherworldly atmosphere that can transport you to another dimension. It uses unusual colors, shapes, and textures to create an environment that is dreamlike and surreal. It can be a great way to escape from the mundane and the ordinary and enter a world of imagination and fantasy.
4. It can be playful and fun
Surrealism interior design can be playful and fun. It is a great way to inject some humor and whimsy into your living space. It can be a great conversation starter and can make your guests feel more relaxed and comfortable in your home.
5. It is timeless
Surrealism interior design is timeless. It is not tied to any particular era or trend and can remain relevant for years to come. It is a form of art that transcends time and can be appreciated by people of all ages and backgrounds.
Worrying about the budget? You don't need a luxury budget to incorporate Surrealism into your living space. Start by playing with colors, mixing patterns, and adding unexpected elements. For example, you could add a bright, neon sign to your living room, paint a mural on one of your walls, or create a sculpture made of found objects. The key is to embrace the unexpected and let your imagination run wild.
Surrealist interior design is a unique and creative way to transform your living space, and digital art facilitates it. It breaks the rules of traditional interior design, sparks imagination and creativity, creates an otherworldly atmosphere, can be playful and fun, and is timeless. Life's short, so why not live in a space that's truly unique?