Whitelisting is one of the tools artists use to manage the sales of their art.
With a whitelisting tool, artists can control who is eligible to participate in an NFT presale or public sale, helping to ensure that only serious collectors are able to purchase the tokens.
Presales have benefited artists in a multitude of ways. Some artists use it to build loyalty with their collectors, rewarding them with guaranteed access to acquire a particularly hot, new piece.
Others use it to maximize the value of their work and protect it from being purchased by individuals who may not have the same appreciation for it.
Whatever your use case is, Exchange.Art offers a friendly tool to whitelist collectors' wallets and offer them guaranteed access to acquire your new piece
How does it work?

1 When listing your edition enable the toggle for "Enable Presale"
2 Pick a start date and a duration for your Presale
3 Select the "Shortlisted Collectors". How? We have a number of options:
- Import a CSV file
- Manually add any number of wallets
- Select collectors from specific series.
4 If you selected the "Get Series Collectors" option, you will be required to specify a snapshot date. Please make sure to set a time AT LEAST 30 minutes prior to the start of your Presale.

By the way, did we tell you that collectors don't need to delist their tokens in order to be included? Amazing, huh?

5 That's it! You are done. 🎉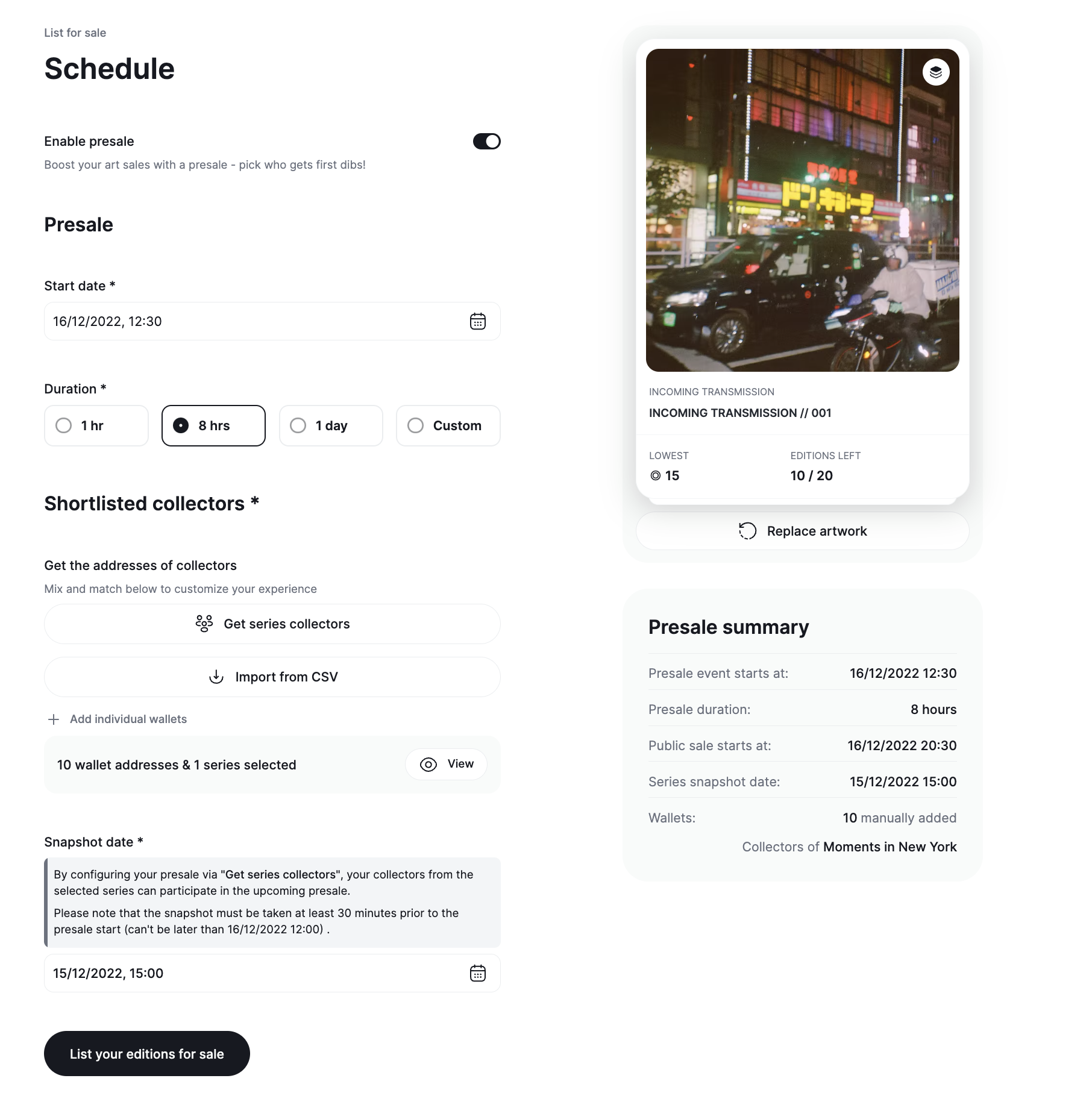 When collectors go to your edition sale, they will be presented with a message indicating when the snapshot is going to take place, and which is the criteria for it.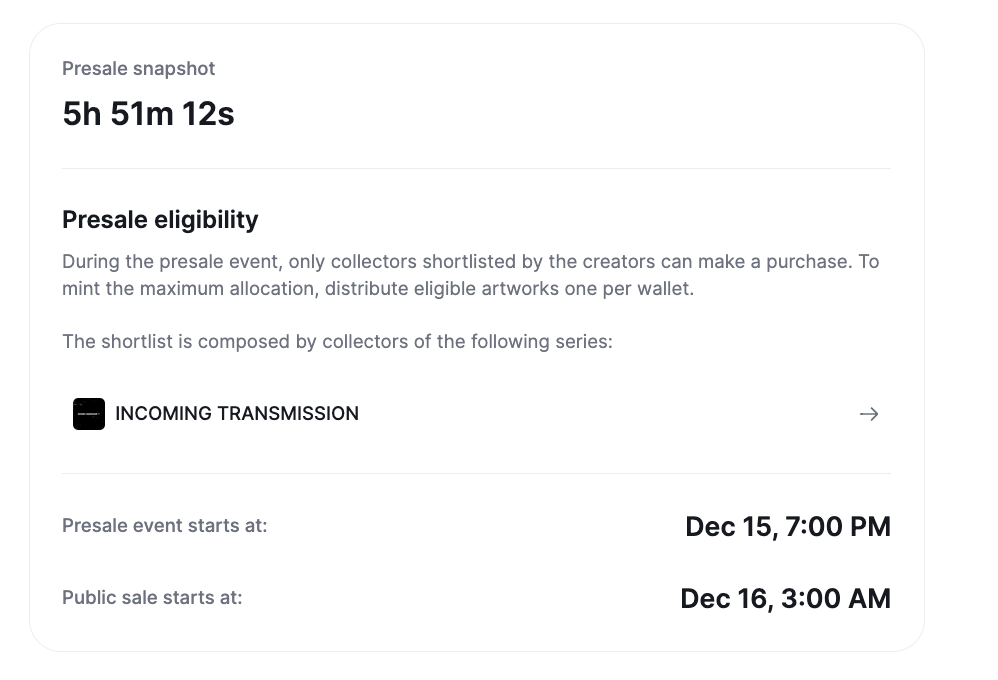 After snapshot was taken, they will be shown if they are authorized to buy during presale or not.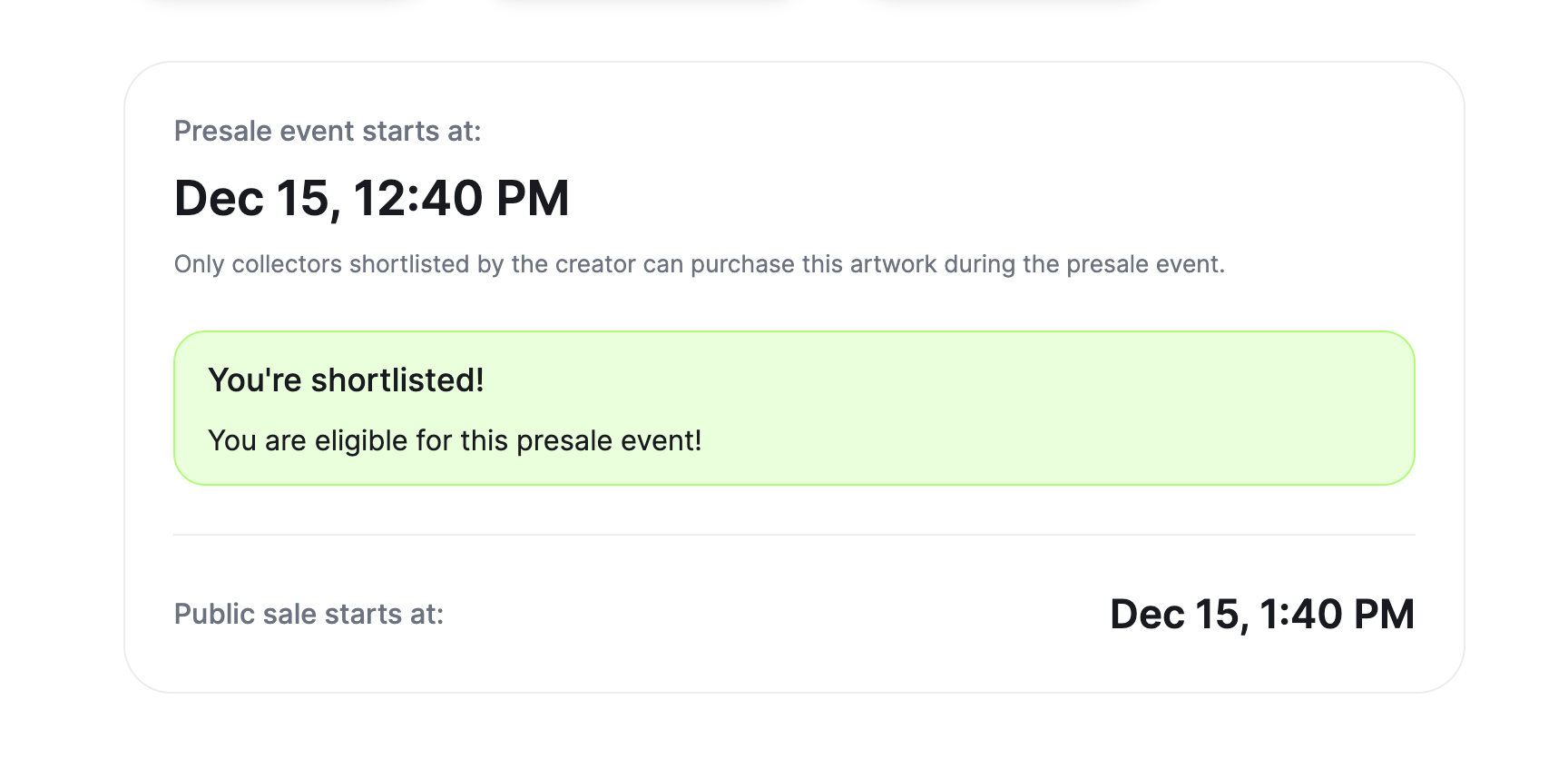 It doesn't really get any simpler than that.
As we said before, we'll continue to provide value and take care of the boring parts, so you can focus on what matters, the art.
Exchange Art Team