Tell us about yourself.
Hi! I'm Hyblinxx, which is definitely an alias. I live in the United States building the creative world of Blinxx. I was born in Haiti but was adopted and grew up in the midwest United States.
How did you become interested in art?
I've been drawing since I could hold a pencil. I'm privileged to have parents who supported and fostered my creativity as I grew up. I took AP art courses in high school and majored in drawing and painting in college. I started my BFA focusing on realism and Medical Illustration and finished with a focus on graphic design.
What is your background?
I didn't feel like I belonged in the midwest so as soon as I could I moved out to explore the West Coast. While on the best coast I worked in tech marketing as a designer, illustrator, and senior art director. I launched brands for companies like Target, Amazon, and rebranded tech giants for the modern era. While I learned a lot in that fast paced high-pressure environment, I was feeling mentally drained, unappreciated, and creatively stunted. I needed to make a change, so I leaned into my illustration in 2020, worked with agents and landed some large clients like the NFL and Netflix. Still feeling like I needed more creative freedom I left the west coast, and my job, moved back to the midwest, and started creating Hyblinxx.
When did you decide that you wanted to become an artist?
College was the first time I called myself an artist. I think it's something I've always tried to escape. I don't enjoy being defined or boxed in, and artist was the definition others had given me my whole life so it felt limiting until I redefined it for myself recently.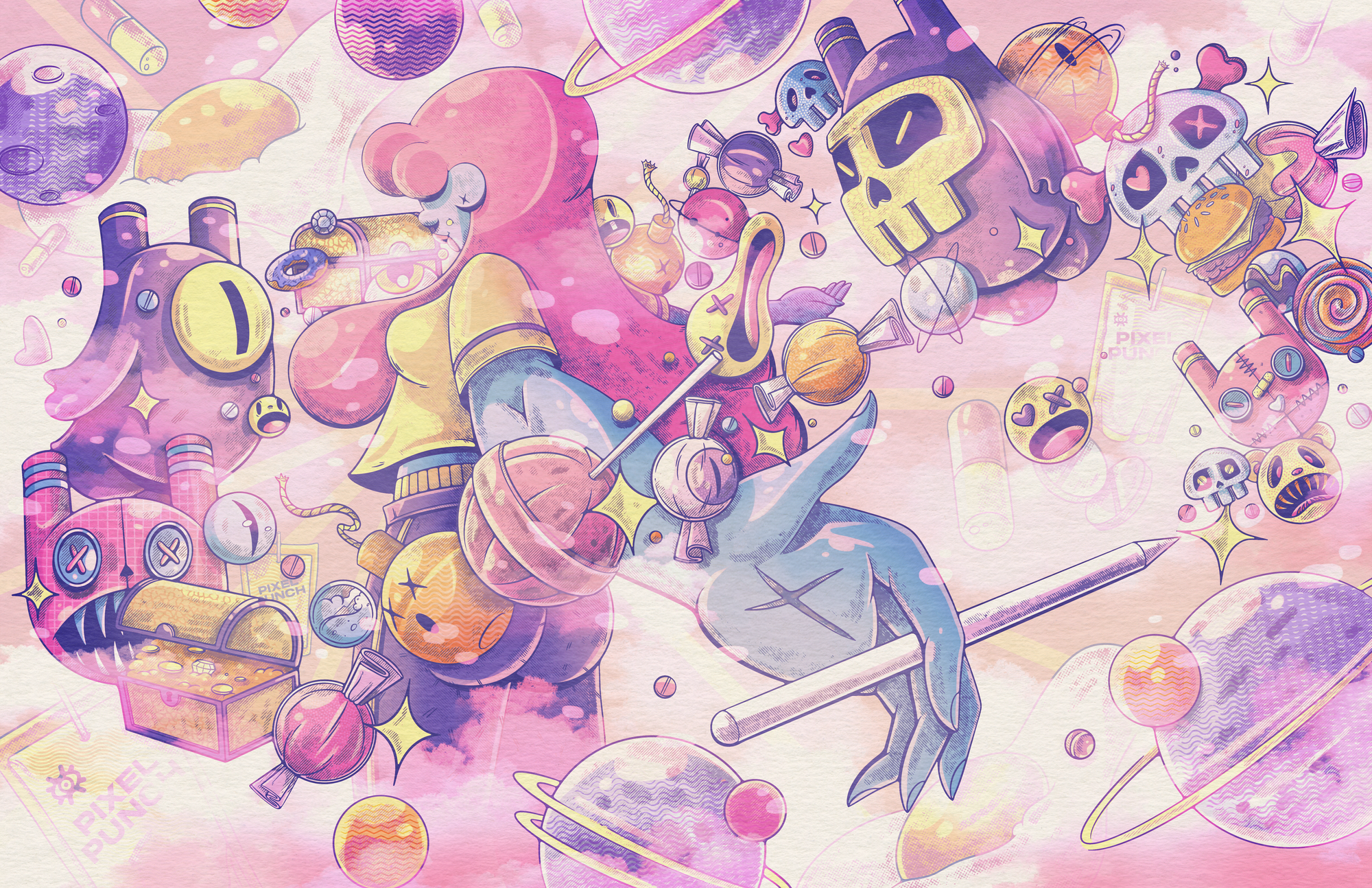 How did you become interested in digital art?
I've loved digital art since college. I was using Wacom tablets and painting in photoshop back then. Once I graduated I focused on design and how my drawing skills could enhance my designs. So I was doing a lot of lettering which introduced me to the iPad and Procreate.  It wasn't until I was working in tech and burning out in 2020 that I started using procreate for illustrating, and the rest is history, lol.
What encouraged you to jump into this space?
I needed a new challenge, and this space combines my passions of art, community, and the entrepreneurial spirit. I instantly saw the potential to build my visual brand and make my art my life. I have a client @SlateMK2 from my web2 illustration persona who heavily suggested I make the jump into NFTs. I was very hesitant, after hearing about the environmental impact and how much eth costs to mint. I wasn't convinced. But he gave me a crash course in the communities on Solana and how to set up a wallet, and suggested I talk to some of the successful artists in the space about how they got started. I launched by making Degenerate Ape Academy and Degenerate Trash Pandas derivatives.
How would you describe your aesthetic?
My aesthetic is Loud, Bold and Vibrant. I am heavily inspired by the 80s and 90s color themes, and I also play heavily into y2k vibes of my early teen years. I love bright colors and the play between geometric and freeform shapes. I'm influenced by streetwear, hiphop, anime, and gaming culture. If it's highlighter yellow, pink or blue…I'm gonna like it.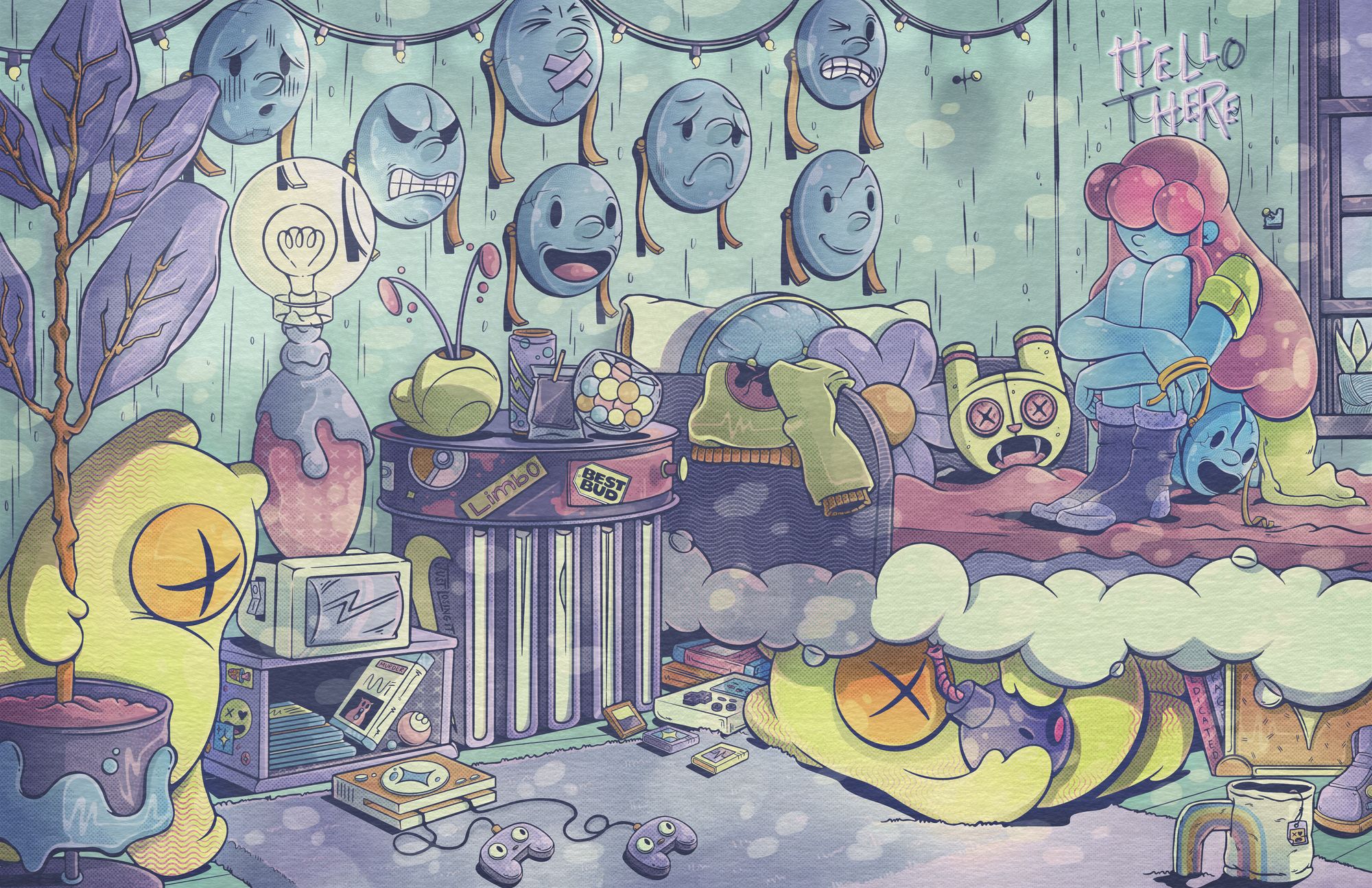 Tell us about your two series, Becoming Blinxx and theHoodlums.
Becoming Blinxx is a personal series exploring mental health and emotional intelligence. It follows our main character Blinxx as she navigates her mental health and learns to love her big emotions. This series sets up the character and the world I want to visually play in and bring to life for the rest of my career. Blinxx and her Inklings are emotional advocates.
theHoodlums is a 1/1 PFP series created to give back to the world's children. This project started as just a dip into the PFP realm and has now grown into a passion project that connects my personal history of being orphaned and then adopted as a child with my love of art, storytelling & fashion. Children are more aware and in tune with what is happening around them than our society gives them credit for. The narrative is of a society that is dying with its planet, and a generation of children trying to awaken and save their community from this horrible fate. My goal for theHoodlums is to spread a message that children need to be listened to, they deserve to be heard.
Can you briefly describe your process?
My process is different depending on what I'm wanting the final outcome to be. But I always start with sketching. I sketch the first few ideas in my head and then decide which ideas are most exciting. I really enjoy creating pieces that elicit an emotional reaction from myself.
What is your process for Becoming Blinxx?
I have a list of emotions and scenarios I went through in 2019-2021 that shaped who I am now. I challenge myself to connect emotionally with these pieces in order to push my technical emotional range and my mental emotional range as well. These pieces force me not only to reflect, but confront and empathize with myself. Being kinder to the sides of me I viewed as weak is an important part of this series process.
What is your process for theHoodlums?
These are a fun way to let my aesthetic play and prove out the Hoodlums Fashion Line. Each Hoodlum starts from a base silhouette that is modified to express the personality of the character. A lot of visual research around hobbies and trinkets from early 90s and 2000s childhoods and watching kids shows with the right vibe of rebellion and camaraderie help flush out the attitudes for the kids. I have always been a lover of streetwear, sneakers, and dystopian cyber punk worlds. I'm taking those as heavy inspiration as I craft the outfits for the characters and the fashion line.
Where do you find inspiration?
I always hate answering this question because it's never just one thing. Everything I've ever come in contact with is a potential inspiration. But I think the one major inspiration for my work are artists like Hebru Brantly who weave their whole past, present, and future into a creative brand. His Flyboy/girl series really picks up his childhood and makes you connect it with yours. Kaws and Lisa Frank are brands I take huge inspiration from as well. Aesthetically, and branding wise, I aim to be as recognizable aesthetically as Lisa Frank.
What advice would you give a new artist?
The Solana NFT space is one of the only places where a young artist has access to real collectors who can help you build your brand and goals. Come in with a vision of where you want to be, and it can happen faster than you'd think in this space.
Making mistakes is how we grow, so don't shy away from taking big steps even if they don't work out. There is a lesson in the experience that will make your next attempt even better.
Have fun connecting with other artists and learning about their stories and backgrounds! There are a lot of insanely kind, wickedly talented people in this space, and the friendships in this space lead to amazing adventures and opportunities!